SMM Feature Profile
Chevrolet's 409: the Eternal Icon
1962 Chevrolet Bel Air Sport Coupe
Owner: Mark Davis - Ukiah, California
Story by J.R. Andres
Photography by Deborah A. Hepper and J.R. Andres
There are a number of ways legends and reputations ar
e built and they are not always based on fact. In the case of the 409, fact and fiction were one and the same.
Chevrolet's initial foray into the world of high-performance had already been established with its small block entries that were first introduced in the mid 1950's but soon it became apparent within GM's most popular division that as their automobiles became larger and heavier, something more powerful was needed between the frame rails. The upper end capabilities of their 265/283 cubic inch V-8's had been exhausted and it was time to turn the page to something that would keep them competitive in the showroom wars raging across America
October 15, 1957, signaled the debut of the 348 cubic inch V-8 into Chevrolet's automotive lineup. The "W" motor was originally intended to be used as a truck power plant and GM engineers noted its potential, deciding that with the addition of improved carburetion, solid lifters and a high lift cam, they could get some respectable numbers on the dyno that were somewhat better than their aging small blocks had provided. A year later, 4-speeds were offered and by late 1961, horsepower had risen from 1958's base 250bhp version all the way up to a tire shredding 350bhp.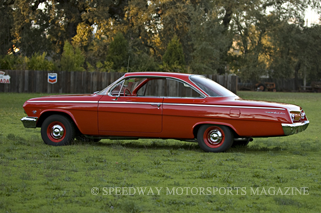 All of this was fine for the street but sanctioned competition, particularly NASCAR and NHRA competition, was far from stellar. Ford had their 390's, Pontiac their 389's, and Plymouth and Dodge their 383's. Before long, Ford had morphed its 390 into a 406, Pontiac developed a 421 and Chrysler stroked its way up to a 413. Chevrolet stalwarts like NASCAR's Rex White did their best to keep the hounds at bay but it was always an uphill battle with the Fords and the Pontiacs usually taking home the gold. It was clear that more cubic inches were needed and like the others, Chevrolet eventually threw its hat in the ring and decided to explore the potential of their one and only big block.
In 1961, Chevrolet applied standard hot rodding principals to increase the bore, stroke, and valve size of the 348 and coupled it with adequate carburetion to come up with the 409, an engine that forty-eight years later, still resonates in the minds of those who know what automobiles are all about.
The engine was an immediate success and Chevrolet fans now had something that could hold its own with anything in production at that time. A total of 142 409's were produced in 1961 and one year later, 15,019 hit the streets. From that point onward,
it became clear that no matter what you drove, nothing could match the cachet of three simple numbers: 4-0-9.
But there was more to it than just numbers. Street cred is one thing but the real significance of the 409 was felt in organized competition. "Dyno Don" Nicholson struck the first blow, winning Top Stock Eliminator at the 1962 Winternationals in Pomona and Chevrolet racers in NASCAR were finally in a position to put the hurt on their Pontiac, Ford and Chrysler rivals who had grown accustomed to seeing them in their rear view mirrors.
Not content to rest on their laurels, Chevrolet raised the ante by producing 20 specially prepared C.O.P.O. 409 1962 Impalas equipped with aluminum front ends, race inspired aluminum intake manifolds, reworked heads and solid lifter cams that later appeared as standard equipment on the infamous cowl inducted R.P.O. Z-11 427 cubic inch "Mystery Motor" Impalas that went into production one year later. From Woodward Avenue in Detroit to Hawthorne Boulevard in L.A., car radios blared the 1962 Beach Boys song that was to become an anthem to every gearhead in this country, "409". Chevrolet had a winner and for less than $3300.00 (including tax and license) you, too, could have one in your garage.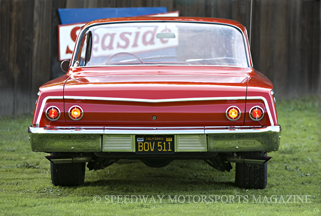 Like most, Mark Davis didn't have the means to buy a 409 when they were new but the desire to own one never subsided. His tastes were different than most in that he was not willing to settle for just any old '62 409 Impala. He had his sights set on the rarest of the rare, the 1962 409/409bhp Bel Air Sport Coupe, commonly known as the "Bubbletop 409". With a mere 790 produced in 1962, it became apparent that he wouldn't be able to locate the car of his dreams so he decided to make one of his own. Starting with a base 327 cubic inch automatic Impala that he located in Davis, California, that had been languishing outside for 22 years, Mark began the process of creating his own bubbletop Bel Air with the help of Ron Duwe, owner of Street Rods by Ron in Ukiah, California, and Brooks Burrell, a talented body and paint man.
Duwe cut the top off the Impala and grafted on a bubbletop roof from a donor car. Once completed, Mark and Brooks Burrell undertook the remainder of the project that included a true frame-off restoration with the addition of front disc brakes, a C.A.R.S. Bel Air interior kit, station wagon coil springs, a CPP power steering box, a Muncie 4-speed transmission, a Positraction third member, Viper Red paint and ultimately the installation of the legendary dual quad 409/409bhp engine. A close inspection of this car reveals the painstaking attention to detail Mark and his associates lavished upon this newly created Bel Air, making it a flawless example of a car whose reputation and legend will be assured for generations to come. It truly is fine, this 409.
A special thanks to Fred Stokes of Santa Rosa, California, for the use of his ranch to photograph the images appearing in this article.
Original Vehicle Specifications
Point of Manufacture:
Los Angeles, California
Original Cost (before options):
$2668.00
Total Production, 1962 409 Bel Air Sport Coupe:
790
Length:
209.6 inches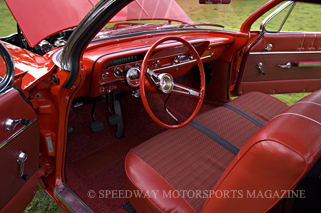 Weight:
3440 lbs.
Wheelbase:
119 inches
Tires:
7.50-14
Brakes front/rear:
drum/drum
Tread front/rear:
60.3 inches/59.3 inches
Transmission:
Muncie T-10 4-speed
Engine Displacement:
409 cubic inches (R.P.O. #587)
Carburetion:
2 x 4 bbl Carter AFB #3345SA
Bore:
4.31 inches
Stroke:
3.50 inches
Compression Ratio:
11.0:1
Horsepower:
409 @ 6000 rpm
Torque:
420 lbs.-ft. @ 4000 rpm
Differential Axle Ratio:
3.67:1 (Positraction)
Wheels:
14" x 6" (steel)
Fuel Capacity:
20 gallons
1/4 Mile Performance:
14.5 secs. @ 98.5 mph

Klay Thompson Named Grand Marshal
of GoPro Grand Prix of Sonoma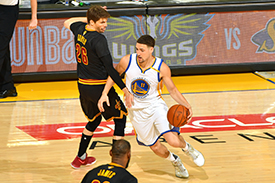 SONOMA, Calif. (Sept. 13, 2017) – Golden State Warriors All-Star Klay Thompson has been named Grand Marshal of the GoPro Grand Prix of Sonoma Verizon IndyCar Series season finale at Sonoma Raceway, Sept. 15-17.
Thompson, a shooting guard for the reigning NBA Champions, was selected in the first round of the 2011 NBA draft by Golden State with the 11th overall pick. In 2014, he and teammate Stephen Curry set a then-NBA record of 484 combined three-pointers in a season, earning the pair the nickname the "Splash Brothers".
Thompson is a three-time NBA All-Star and a two-time All-NBA Third Team honoree. In 2015, he helped lead the Warriors to their first NBA Championship since 1975. Thompson then helped the Warriors return to the NBA Finals for a third straight year in 2017, winning his second NBA Championship.

In his role as Grand Marshal of the GoPro Grand Prix of Sonoma, Thompson will take part in pre-race activities on Sunday, Sept. 17, give the official command of, "Drivers, Start Your Engines" and wave the green flag. Thompson will also enjoy a high-speed lap around the road course with racing legend Mario Andretti in a two-seat Indy car. This will mark his first visit to a motorsports event.
"I am beyond excited to be Grand Marshal for the GoPro Grand Prix of Sonoma," said Thompson. "I have heard so many good things about this race, and I can't wait to see everything up close in person."
Thompson is extremely active with Warriors community outreach programs and has been recognized off the court for his efforts in the community. He received the NBA Cares Community Assist Award for November 2014 and the Alvin Attles Community Impact Award in April 2015 in recognition of his efforts to make a positive impact on the lives of underserved youth in the Bay Area.
"Klay is a core member of one of the greatest sports teams in Bay Area history. He's a true champion and we're excited he will be with us to help crown the 2017 Verizon IndyCar Series champion this Sunday," said Steve Page, Sonoma Raceway president and general manager.
For more information or to purchase tickets for the GoPro Grand Prix of Sonoma, including preferred parking, garage access, pit and pre-race passes, visit www.sonomaraceway.com/indycar or call 800-870-7223. Kids 12 and under are admitted FREE all weekend and parking is FREE.
###
GoPro Grand Prix of Sonoma
Verizon IndyCar Series Season Finale

WHEN: Sept. 15-17
CIRCUIT: 12-turn, 2.38-mile road course
2016 WINNER: Simon Pagenaud (Team Penske)
INFORMATION: 800-870-RACE (7223), sonomaraceway.com/indycar
SOCIAL MEDIA: @RaceSonoma; #GoProGP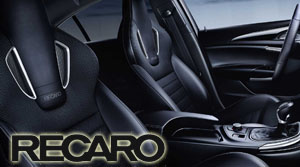 2017 Major Events
At Sonoma Raceway
Sonoma Historic Motorsports Festival
June 2-4
Toyota/Save Mart 350
NASCAR Weekend
June 23-25
NHRA Division 7 drag races, presented by Korbel
July 21-23
Toyota NHRA Sonoma Nationals
July 28-30
MotoAmerica Series presents the Championship
at Sonoma Raceway
Aug. 11-13
GoPro Grand Prix of Sonoma
Sept. 15-17
Classic Sports Racing Group
Charity Challenge
Sept. 29-Oct. 1