SMM Feature Profile
TRANS-AM Madness for the Masses
1970 Dodge Challenger T/A
Owner: Ron Cassero – Santa Rosa, California
Story by J.R. Andres
Photography by Deborah A. Hepper and J.R. Andres
Homologation was the name of the game for auto manufacturers who wanted to campaign their newest rides in organized racing competition. Virtually any model could qualify as long as the vehicle met the sanctioning body's guidelines and the factory built the requisite number specified by that racing organization for public consumption.
In the late 1960's and early 70's, this mandate led to a spate of outrageous cars such as the Dodge Daytonas, the Plymouth Superbirds, the Ford Torino Talladegas and the Mercury Cyclones, the likes of which we'll never see roaming the boulevards of this country again. Power plants ranged from the venerable 426 Hemi, to 428s and 429s to 440 wedges, and it sure didn't hurt your image to be seen driving something on the street you just saw winning on the track last weekend. It was a win-win situation for the car crazies who inhabited the planet at that time but more importantly, it opened the door for the Big Three to engage and compete in the proven "race on Sunday, sell on Monday" philosophy. At that time, there wasn't a better way to sell cars and everyone knew it. Customers wanted some "grunt" for their bucks and race inspired street cars was the way to go.
Small block aficionados longed for their place in the sun, too, which led to the introduction of the Ford Mustang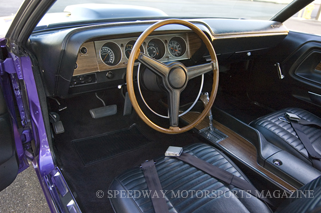 Boss 302s, American Motors AMXs and Chevrolet Camaro Z/28s, but Chrysler didn't have anything comparable until the Dodge Challenger T/A and the Plymouth AAR Cudas were unveiled in 1970, the same year the SCCA sanctioned Trans American Sedan Championship came into being.
Based upon Chrysler's newly introduced E-body, the Dodge Challenger T/A offered a cornucopia of automotive delights that far exceeded its Trans Am classmates. Things like a high performance 340 engine topped with three Holley two barrels on an aluminum intake, a hinged matte black fiberglass hood with functional air scoop, low restriction dual exhausts that ran back to the trunk area then reversed direction exiting in front of the rear tires ending in a chromed megaphone exhaust tip, increased camber in the rear springs raising the rear of the car, E60-15 front and G60-15 rear tires, standard front disc brakes and bold T/A Six Pack graphics topped off by front and rear fiberglass spoilers. Colors? Here were some of the choices: Panther Pink, Plum Crazy, Sublime, Go-Mango, Banana and Hemi Orange. It was a complete package, totaling a mere 2,539 copies that unfortunately lasted for just one year and by 1971 the T/A was a thing of the past. Since that time, the v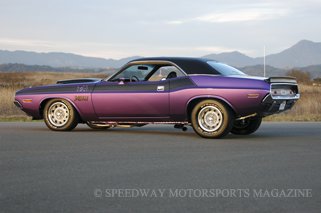 alue of these automobiles has risen steadily and today restored and low mileage examples command prices more than ten times what they originally sold for.
In July of 1992, Ron Cassero was at the right place at the right time at the Chrysler dealership where he was working when a tow truck brought in a 1970 Challenger that had been sitting in the original owner's garage since 1983, with a request to just get it running again. Once up on the rack, a rear sway bar was discovered and after checking the VIN, it became apparent that this wasn't just any Challenger but a T/A even though it had a R/T hood, the triple carburetion had been removed and it had been treated to a $29.95 Earl Scheib paint job . Further research established the fact that the original owner had been killed in a motorcycle accident and that his mother, who spoke no English, had stored the car for all those years as her son would have wanted her to. Ron made arrangements to purchase the car from the family with the promise that it would be restored.
Over the next nine years, hard to find T/A parts were collected and after one year of final assembly, Cassero eventually transformed an ugly duckling into a rolling testimonial to the time when looking good and going fast meant something on and off the track. Most important of all was the fact that he had kept his promise.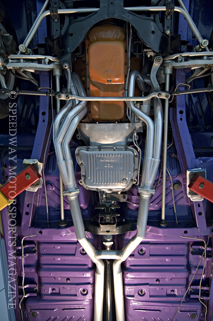 Original Vehicle Specifications
Point of Manufacture:
Hamtramck, Michigan
Original Cost:
$4832.95
Total 1970 T/A Production:
2,539 units
Length:
191.3 inches
Weight:
3390 lbs.
Wheelbase:
110 inches
Tires:
E60-15 front/G60-15 rear
Brakes front/rear:
power-assist disc/drum
Tread front/rear:
59.7 inches/60.7 inches
Transmission:
727 Torqueflite 3-spd Automatic
Engine Displacement:
340 cubic inches
Carburetion:
3 x 2bbl 2300 Holleys
Bore:
4.04 inches
Stroke:
3.31 inches
Compression Ratio:
10.5:1
Horsepower:
290 @ 5000 rpm
Torque:
345 lbs.-ft. @ 3400 rpm
Differential Axle Ratio:
3.55:1 (limited slip)
Wheels:
15" x 7" rally style
Fuel Capacity:
18 gallons
¼ Mile Performance:
14.5 secs. @ 99.6 mph

Klay Thompson Named Grand Marshal
of GoPro Grand Prix of Sonoma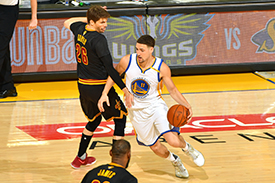 SONOMA, Calif. (Sept. 13, 2017) – Golden State Warriors All-Star Klay Thompson has been named Grand Marshal of the GoPro Grand Prix of Sonoma Verizon IndyCar Series season finale at Sonoma Raceway, Sept. 15-17.
Thompson, a shooting guard for the reigning NBA Champions, was selected in the first round of the 2011 NBA draft by Golden State with the 11th overall pick. In 2014, he and teammate Stephen Curry set a then-NBA record of 484 combined three-pointers in a season, earning the pair the nickname the "Splash Brothers".
Thompson is a three-time NBA All-Star and a two-time All-NBA Third Team honoree. In 2015, he helped lead the Warriors to their first NBA Championship since 1975. Thompson then helped the Warriors return to the NBA Finals for a third straight year in 2017, winning his second NBA Championship.

In his role as Grand Marshal of the GoPro Grand Prix of Sonoma, Thompson will take part in pre-race activities on Sunday, Sept. 17, give the official command of, "Drivers, Start Your Engines" and wave the green flag. Thompson will also enjoy a high-speed lap around the road course with racing legend Mario Andretti in a two-seat Indy car. This will mark his first visit to a motorsports event.
"I am beyond excited to be Grand Marshal for the GoPro Grand Prix of Sonoma," said Thompson. "I have heard so many good things about this race, and I can't wait to see everything up close in person."
Thompson is extremely active with Warriors community outreach programs and has been recognized off the court for his efforts in the community. He received the NBA Cares Community Assist Award for November 2014 and the Alvin Attles Community Impact Award in April 2015 in recognition of his efforts to make a positive impact on the lives of underserved youth in the Bay Area.
"Klay is a core member of one of the greatest sports teams in Bay Area history. He's a true champion and we're excited he will be with us to help crown the 2017 Verizon IndyCar Series champion this Sunday," said Steve Page, Sonoma Raceway president and general manager.
For more information or to purchase tickets for the GoPro Grand Prix of Sonoma, including preferred parking, garage access, pit and pre-race passes, visit www.sonomaraceway.com/indycar or call 800-870-7223. Kids 12 and under are admitted FREE all weekend and parking is FREE.
###
GoPro Grand Prix of Sonoma
Verizon IndyCar Series Season Finale

WHEN: Sept. 15-17
CIRCUIT: 12-turn, 2.38-mile road course
2016 WINNER: Simon Pagenaud (Team Penske)
INFORMATION: 800-870-RACE (7223), sonomaraceway.com/indycar
SOCIAL MEDIA: @RaceSonoma; #GoProGP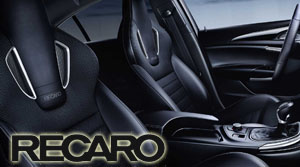 2017 Major Events
At Sonoma Raceway
Sonoma Historic Motorsports Festival
June 2-4
Toyota/Save Mart 350
NASCAR Weekend
June 23-25
NHRA Division 7 drag races, presented by Korbel
July 21-23
Toyota NHRA Sonoma Nationals
July 28-30
MotoAmerica Series presents the Championship
at Sonoma Raceway
Aug. 11-13
GoPro Grand Prix of Sonoma
Sept. 15-17
Classic Sports Racing Group
Charity Challenge
Sept. 29-Oct. 1