SMM Feature Profile
The Car that Could Have and Should Have
1934 DeSoto Airflow 5-P 2-Door Coupe
Owners: Stephen and Zoe Barr-Windsor, California
Story by J.R. Andres
Photography by Deborah A. Hepper and J.R. Andres
Automotive innovation hasn't always been greeted with open arms by the car buying public, and the Airflows of 1934-37 were no exception. What began as an exercise in raising the bar of safety, styling and comfort, resulted in a marketing disaster that nearly destroyed the DeSoto nameplate. The Airflow concept was considered too radical in the mid-30's and it would take years before they would be recognized as truly groundbreaking automobiles,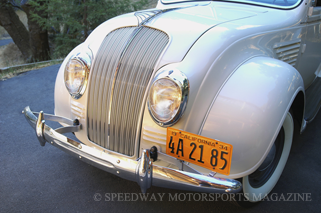 cars that offered unique features the other manufacturers weren't prepared to provide to their own customers.
The saga began in 1927 when Chrysler Research Chief, Carl Breer, observed a squadron of military aircraft and thought of applying streamlined principals to an automobile. Working in conjunction with engineers Fred Zeder and Owen Skelton, the "Three Musketeers" developed a design concept that was refined through wind tunnel testing with the assistance of none other than Orville Wright.
By 1932, the prototype was completed and production was given the go sign for an introduction at the New York Auto Show in January 1934 where it was met with mixed reviews. It seemed that this new DeSoto was too radical for the automotive mavens of the day to view the Airflow as a trend setter even though it later became the harbinger of emerging trends and features that are now commonplace in the cars we drive today.
There are many reasons why the Airflow was different from its more common brethren: the aerodynamic Art Deco zeppelin tear drop shape, the steel frame unitized superstructure, an engine moved nearly 20 inches forward over the front axle with the rear seat relocated in front of the rear axle thereby increasing passenger space and headroom, an enclosed radiator, three-wide front seating, and flush mounted headlights along with a front to rear weight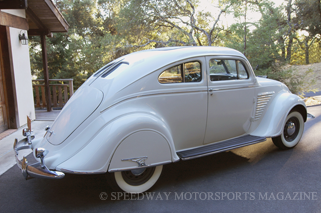 distribution of 55/45, reversing the common 45/55 front to rear weight distribution of most cars at that time. Its performance was also noted on the salt flats of Utah when the Airflow broke 70 speed records at Bonneville and its reputation for strength became legendary when during a filmed demonstration, it was pushed off a 110 foot cliff in Pennsylvania and astonishingly drove away under its own power. It seemed like a sure thing for Chrysler but buyers stayed away in droves and experts of the day relegated the Airflow to a list of cars that should never have been built in the first place. It has taken decades to redeem the Airflow and today, like the Tucker, the Corvair and others, this DeSoto has seen a resurgence in interest by collectors who now recognize its relevance and importance in the annals of American automotive history.
The vehicle featured in this article (VIN# 5077550) was built in Detroit on May 25, 1934, and shipped to the James F. Waters agency in San Francisco on May 28, 1934. Waters was known then as the world's largest DeSoto Plymouth dealership. In 1939, Waters moved on to other pursuits and the old dealership located at 1355-1395 Van Ness Avenue changed hands, becoming Ellis Brooks Chevrolet which still exists today.
Shortly after the DeSoto arrived in San Francisco, Euge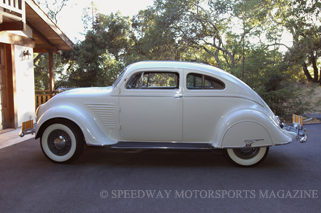 ne Barr (the present owner's grandfather) purchased the car and drove it until 1943, eventually passing it on to Stephen Barr's father, who used it as a family camping vehicle between WW II and the Korean War. In 1956, Stephen learned how to drive with the help of the Airflow and it continued to remain in the Barr family until approximately 1962, when it was given away by his father during the time Stephen was serving in the Navy.
Stephen Barr never forgot about the Airflow and the memories it held but tracking it down was another matter altogether since he wasn't aware the car even existed. Numerous attempts to locate the DeSoto through normal channels were met with failure and it appeared that he would have to accept the fact that it was gone.
In 2003, Stephen placed a vehicle locator inquiry on the DeSoto Airflow website. To his surprise he was contacted a short time later by someone who thought he might have the car in question. After describing the particulars of the car, it was apparent that the DeSoto the caller had in his possession was the same one Barr had been searching years for. On December 10, 2003, Stephen and the Airflow were reunited once again. It was a reunion that neither will ever forget.
Since 2003, the Airflow has been restored and proudly displayed by an individual who never wavered in his quest to once again bring the same car home in 2003 to the same family that first brought it home in the summer of 1934.
Original Vehicle Specifications
Point of Manufacture: Detroit, Michigan

Assembly Date: May 25, 1934
Original Cost (FOB Detroit): $995.00
Body Style: Kercheval/Model #2139
Total 1934 Production: 13,940 units
Overall height: 68 inches
Length: 196 inches
Wheelbase: 115.5 inches
Tires: 6.50/16
Tread: front/rear 57 inches/56.25 inches
Weight: 3323 lbs.
Transmission: floor mounted 3-speed manual
Engine Displacement: 241.5 cubic inches
Bore: 3 3/8 inches
Stroke: 4.5 inches
Compression Ratio: 6.2 to 1
Horsepower: 100@3600 RPM
Differential Axle Ratio: 4.11 to 1
Weight Distribution (front/rear): 55/45


Klay Thompson Named Grand Marshal
of GoPro Grand Prix of Sonoma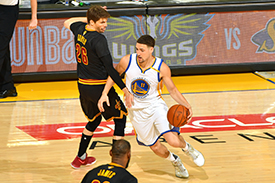 SONOMA, Calif. (Sept. 13, 2017) – Golden State Warriors All-Star Klay Thompson has been named Grand Marshal of the GoPro Grand Prix of Sonoma Verizon IndyCar Series season finale at Sonoma Raceway, Sept. 15-17.
Thompson, a shooting guard for the reigning NBA Champions, was selected in the first round of the 2011 NBA draft by Golden State with the 11th overall pick. In 2014, he and teammate Stephen Curry set a then-NBA record of 484 combined three-pointers in a season, earning the pair the nickname the "Splash Brothers".
Thompson is a three-time NBA All-Star and a two-time All-NBA Third Team honoree. In 2015, he helped lead the Warriors to their first NBA Championship since 1975. Thompson then helped the Warriors return to the NBA Finals for a third straight year in 2017, winning his second NBA Championship.

In his role as Grand Marshal of the GoPro Grand Prix of Sonoma, Thompson will take part in pre-race activities on Sunday, Sept. 17, give the official command of, "Drivers, Start Your Engines" and wave the green flag. Thompson will also enjoy a high-speed lap around the road course with racing legend Mario Andretti in a two-seat Indy car. This will mark his first visit to a motorsports event.
"I am beyond excited to be Grand Marshal for the GoPro Grand Prix of Sonoma," said Thompson. "I have heard so many good things about this race, and I can't wait to see everything up close in person."
Thompson is extremely active with Warriors community outreach programs and has been recognized off the court for his efforts in the community. He received the NBA Cares Community Assist Award for November 2014 and the Alvin Attles Community Impact Award in April 2015 in recognition of his efforts to make a positive impact on the lives of underserved youth in the Bay Area.
"Klay is a core member of one of the greatest sports teams in Bay Area history. He's a true champion and we're excited he will be with us to help crown the 2017 Verizon IndyCar Series champion this Sunday," said Steve Page, Sonoma Raceway president and general manager.
For more information or to purchase tickets for the GoPro Grand Prix of Sonoma, including preferred parking, garage access, pit and pre-race passes, visit www.sonomaraceway.com/indycar or call 800-870-7223. Kids 12 and under are admitted FREE all weekend and parking is FREE.
###
GoPro Grand Prix of Sonoma
Verizon IndyCar Series Season Finale

WHEN: Sept. 15-17
CIRCUIT: 12-turn, 2.38-mile road course
2016 WINNER: Simon Pagenaud (Team Penske)
INFORMATION: 800-870-RACE (7223), sonomaraceway.com/indycar
SOCIAL MEDIA: @RaceSonoma; #GoProGP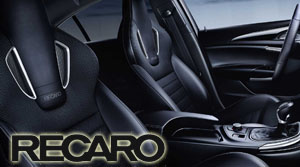 2017 Major Events
At Sonoma Raceway
Sonoma Historic Motorsports Festival
June 2-4
Toyota/Save Mart 350
NASCAR Weekend
June 23-25
NHRA Division 7 drag races, presented by Korbel
July 21-23
Toyota NHRA Sonoma Nationals
July 28-30
MotoAmerica Series presents the Championship
at Sonoma Raceway
Aug. 11-13
GoPro Grand Prix of Sonoma
Sept. 15-17
Classic Sports Racing Group
Charity Challenge
Sept. 29-Oct. 1