SMM Feature Profile
American Motor's Crown Jewel: 1968 AMX #03056
Owner: Rich Brazil—Petaluma, California
Story by J.R. Andres
Photography by Deborah A. Hepper and J.R. Andres
By the late 1960's, the streets of America had already been hammered for years by the big cube offerings provided by Chrysler, Ford and General Motors. In those days you were what you drove and if you wanted to play with the big dogs, you couldn't even ante up unless you had at least 390 cubic inches in your pocket. Sure there were a few hot small blocks around but reputations and legends were being built and maintained only with the likes of 426's, 409's, 421's, 396's, 455's and 427's. When you rolled up to a stoplight in those days, your MoPar, Chevy, Ford or Pontiac fender badge said it all. When you rolled up to that same stoplight with an American Motors product, everyone looked the other way. At least that's the way it was until 1968, the year American Motors finally shed its dowdy Rambler image.
It was clear that the muscle car craze held a lot of financial rewards for those companies who produced the kind of cars members of the "boomer" generation were demanding. GM, Ford and Chrysler were already there. Even Studebaker had an entry in 1963, the Avanti. No one ever expected AMC to jump on board, especially considering the fact they were still producing the "sensible" cars they had become k
nown for, the same ones that were derided by virtually every automotive enthusiast of the day.
The original project, dubbed "American Motors eXperimental", was based upon two prototypes that toured the country in 1966 as part of AMC's Project IV show that represented the first glimpse into the corporation's desire to shed its image as an entity catering solely to the more mature car buying public. Who would have thought that the staid Kenosha plant would actually produce the first steel-bodied two-seater since the 1955-57 Ford Thunderbird? It was unheard of.
Prior to the time it was introduced on February 23, 1968, the AMX had already set 106 national and international land speed records at the hands of Bonneville's own, Craig Breedlove, who in a modified AMX, ran an official timed top speed of 189 mph on the flats. It was an accomplishment few muscle cars could boast of and it established a noteworthy reputation for a new car that hadn't even hit the streets yet.
With a base price $1500.00 less than the Corvette, the AMX offered good straight line performance and stellar cornering. Add a few options from the "Go Package" and you didn't have to shy away from any stoplight grand prix that came your way. Finally, AMC fans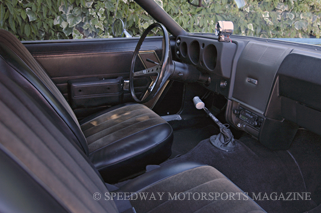 had something to be proud of and it was clear that from that point onward that respectability on the street wasn't just reserved for those who drove what the "Big Three" had to offer.
Rich Brazil, the owner of the 1968 AMX appearing in this article, has maintained the car in mostly stock condition with the exception of the color change to an AMX color from 1969 called "Big Bad Blue", the addition of aftermarket Cragar S/S rims and tires. While in high school, Rich sold his 1969 AMX to a friend and always regretted doing so. Ten years ago he had the opportunity to right that wrong and since that time he's never looked back. With a mere 72,000 original miles on the clock, Brazil's AMX represents an unmolested time machine, one that is willing and able to propel him back to a time when AMC first burst upon the American automotive scene in a car that truly deserves to be recognized as the trendy performance oriented groundbreaker the boys of Kenosha originally intended it to be.


Original Vehicle Specifications w/o Options
Point of Manufacture: Kenosha, Wisconsin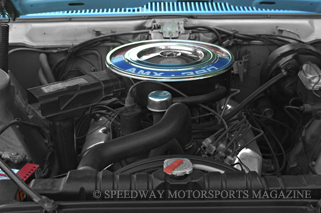 Original Cost: $3395.00
Total 1968 Production: 6725 units
Overall Height: 51.7 inches
Length: 177.2 inches
Wheelbase: 97 inches
Tires: E70-14
Brakes: 10 inch hydraulic drum type
Tread—front/rear: 58.36 inches/57 inches
Weight: 3035 lbs.
Transmission: Borg Warner T-10/4-speed manual
Engine Displacement: 390 cubic inches
Bore: 4.17 inches
Stroke: 3.57 inches
Compression Ratio: 10.2:1
Horsepower: 315 @ 4600 rpm
Torque: 425 lbs.-ft. @ 3200 rpm
Differential Axle Ratio: 3.15:1(limited-slip)
Fuel Capacity: 19 gallons
¼ Mile Performance: 15.2 secs. @ 92 mph


Klay Thompson Named Grand Marshal
of GoPro Grand Prix of Sonoma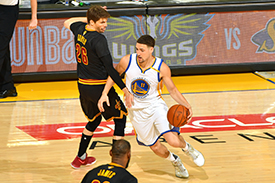 SONOMA, Calif. (Sept. 13, 2017) – Golden State Warriors All-Star Klay Thompson has been named Grand Marshal of the GoPro Grand Prix of Sonoma Verizon IndyCar Series season finale at Sonoma Raceway, Sept. 15-17.
Thompson, a shooting guard for the reigning NBA Champions, was selected in the first round of the 2011 NBA draft by Golden State with the 11th overall pick. In 2014, he and teammate Stephen Curry set a then-NBA record of 484 combined three-pointers in a season, earning the pair the nickname the "Splash Brothers".
Thompson is a three-time NBA All-Star and a two-time All-NBA Third Team honoree. In 2015, he helped lead the Warriors to their first NBA Championship since 1975. Thompson then helped the Warriors return to the NBA Finals for a third straight year in 2017, winning his second NBA Championship.

In his role as Grand Marshal of the GoPro Grand Prix of Sonoma, Thompson will take part in pre-race activities on Sunday, Sept. 17, give the official command of, "Drivers, Start Your Engines" and wave the green flag. Thompson will also enjoy a high-speed lap around the road course with racing legend Mario Andretti in a two-seat Indy car. This will mark his first visit to a motorsports event.
"I am beyond excited to be Grand Marshal for the GoPro Grand Prix of Sonoma," said Thompson. "I have heard so many good things about this race, and I can't wait to see everything up close in person."
Thompson is extremely active with Warriors community outreach programs and has been recognized off the court for his efforts in the community. He received the NBA Cares Community Assist Award for November 2014 and the Alvin Attles Community Impact Award in April 2015 in recognition of his efforts to make a positive impact on the lives of underserved youth in the Bay Area.
"Klay is a core member of one of the greatest sports teams in Bay Area history. He's a true champion and we're excited he will be with us to help crown the 2017 Verizon IndyCar Series champion this Sunday," said Steve Page, Sonoma Raceway president and general manager.
For more information or to purchase tickets for the GoPro Grand Prix of Sonoma, including preferred parking, garage access, pit and pre-race passes, visit www.sonomaraceway.com/indycar or call 800-870-7223. Kids 12 and under are admitted FREE all weekend and parking is FREE.
###
GoPro Grand Prix of Sonoma
Verizon IndyCar Series Season Finale

WHEN: Sept. 15-17
CIRCUIT: 12-turn, 2.38-mile road course
2016 WINNER: Simon Pagenaud (Team Penske)
INFORMATION: 800-870-RACE (7223), sonomaraceway.com/indycar
SOCIAL MEDIA: @RaceSonoma; #GoProGP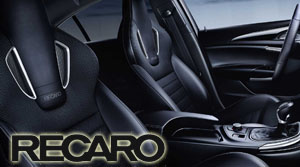 2017 Major Events
At Sonoma Raceway
Sonoma Historic Motorsports Festival
June 2-4
Toyota/Save Mart 350
NASCAR Weekend
June 23-25
NHRA Division 7 drag races, presented by Korbel
July 21-23
Toyota NHRA Sonoma Nationals
July 28-30
MotoAmerica Series presents the Championship
at Sonoma Raceway
Aug. 11-13
GoPro Grand Prix of Sonoma
Sept. 15-17
Classic Sports Racing Group
Charity Challenge
Sept. 29-Oct. 1