SMM Feature Profile
1956 Aston Martin DB3S-Production Chassis Number #115
Power, Soul and Beauty
Owner: Mr. Alan Selby/Northern California
Story and Interview by J.R. Andres
Photography by J.R. Andres and William O'Beirne

Aston Martin, the name, the cars and the tradition dating back nearly to the beginning of the automotive experience
itself, a marque that is synonymous with quiet country roads stretching from village to village in the green, fog shrouded pastoral hinterlands of Mother England, an automobile that made its presence known in places such as Silverstone, Sebring, the Mulsanne Straight of LeMans, Spa, Goodwood and The Nurburgring, driven by legends in their own right -- Sterling Moss, Jimmy Clark and Carroll Shelby. These bloodlines, even to this day, continue to run deep and true as they have for the past 95 years when the first Aston Martin was produced in 1914 at Henniker Place, Kensington.
The history of the DB (David Brown) Series dates to 1950 when the DB2 was introduced with the new 2.6 litre DOHC 6 cylinder engine that turned the coupe into something to be reckoned with. The DB Series of 6 cylinder cars continued to 1970 with the DB6 Vantage option of 325 horsepower, making it a full fledged member of the exotic supercar set. Since then V8, V12, supercharged 6's, and variants to over 600 horsepower have and are still being made to this day, albeit under a succession of owners since Sir David sold the company in 1972.

Ask someone today if they've heard of Aston Martin and many will say it's the same car (the DB5) that James Bond drove in movies like "Goldfinger" but there's more to the story than just the automobile immortalized on the screen; there's the DB3S, a limited production (31 total), hand built and purposeful machine with a reason for being that was weaned on and developed for the racetracks of the world.
The automobile featured in this article is "production" car chassis #115, resplendent in the blue and white paint scheme that the factory applied to all the 3S cars they exported to the United States, as Carroll Shelby specified for 3S #3 that he raced in 1953. It was a rather expensive aluminum bodied car and little known in its day to auto enthusiasts in this country, but it was another matter entirely to a small handful of factory racers in England and Europe.

Built in 1956 at the Aston Martin service department in Feltham, England, this DB3S represents a serious commitment to excellence in design and extraordinary attention to detail by the manufacturer. Aston Martin made do with the limited time and resources at their disposal, always within their restricted budget and (usually) on time. It's interesting to note that construction of this and the other 19 customer cars would only take place when regular service work was completed which may account for the small number of 3S cars constructed over several years.
SMM was fortunate to have the opportunity to spend some time with #115, photographing the car and listening to its owner, Mr. Alan Selby, share his knowledge of the history of Aston Martin and his love for the 1952 DB2 and 1956 DB3S now residing together, two significant examples of international automotive history.

SMM: How did you first become interested in the Aston Martin marque?


AS: "I had attended a race in Stockton in the early 1950's and saw an individual named Doug Trotter racing a DB2 Coupe. I remembered being very impressed by it as the car was beautiful. It was sparkly with wire wheels and for a 2.6 litre engine it was really going. I said then, 'Oh boy, someday I'm going to own an Aston Martin.'

Some ten years later, after working overseas for a number of years, I had saved enough money so I could go out and seriously look for one. I checked out the used car classified ads in the San Francisco Chronicle and found an Aston Martin DB2 for sale in Sausalito. I later discovered the car I had bought was the same one I had seen racing in Stockton ten years earlier, the one that Trotter had bought directly from Phil Hill, the famous racer."
SMM: What was the original selling price of the DB3S?
AS: "As I understand it, the original price in U.S. dollars was about $9500 new, which was not inclusive of the stiff value added tax imposed at that time. For an Englishman it would cost way over $10,000. Lots of bucks in 1956."
SMM: Please explain how you found the DB3S.
AS: "After purchasing my 1952 DB2 Coupe in 1963, I became even more interested in Astons and found out about the DB3S, which was even more sexy than the coupe. In 1966 I located my DB3S in the classified used car ads of the San Francisco Chronicle. You understand that times were much different in those days. It was up in Folsom, owned by a mechanical engineer for Aero Jet who was lusting after a Maserati Birdcage at the time. So I brought it back and used it as a road car for a few years before it was retired and eventually restored."
SMM: Please tell us about the restoration that started in 1995 and the individuals involved in the completion of the project.
AS: "Dickie Green, who worked in the racing department of Aston Martin, and George Newell did the engine rebuild and it is very likely my engine was the last one they ever built. George had bought DB3S #117 in 1970 and had raced it consistently for many many years. These two men were "capital" people, especially George who couldn't help you enough. Both of them were always available. I rebuilt the chassis, cleaned all the parts and installed new bearings in everything that moved prior to installation. I give so much credit to George, Dickie and to Ron Wheeler for their abilities. The shape of the car is probably better than any 3S around in terms of purity of line thanks to Ron's bodywork artistry. I had gone back to Britain in 1987 and photographed every 3S I could find to try and get the accurate shape. My objective was to get it as close as possible to original factory condition. You must understand that the British have had an institutional attachment to Aston Martin that has been in existence for decades. It is and has always been considered a stalwart and very British car."
SMM: Has your DB3S won any awards?
AS: "I really haven't gone after much of anything. I did enter the car at one Hillsborough event and then the 2007 Niello Concours at Serrano. At the Niello event we were treated very nicely by the organizers and many spectators in attendance knew a lot about Astons. We received a first in class at that event. We had been also awarded The People's Choice at the Redwood Concours in 2005.
Vehicle Specifications-Aston Martin DB3S
Production years for the series: 1955-57
Production figures: 31 total (11 of which were factory race only team cars.)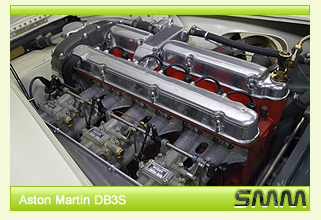 Engine: water cooled in-line 6
Valvetrain: DOHC 2 valves per cylinder
Carburetion: 3-Weber 40 DCO carburetors
Displacement: 178.3 cubic inches/2922 cc/3 litre
Bore: 3.27 in./83 mm
Stroke: 3.54 in./90 mm
Compression: 8.5:1
Horsepower:180 bhp@5500 rpm
Torque: 182 ft lbs@3800 rpm
Transmission: 4 speed manual
Steering: rack & pinion
Body/frame: aluminum over tubular frame
Fuel capacity: 42 gallons
Weight: 1900 lbs
Performance: 0-60 (6.6 seconds)/top speed (140.6 mph)


Klay Thompson Named Grand Marshal
of GoPro Grand Prix of Sonoma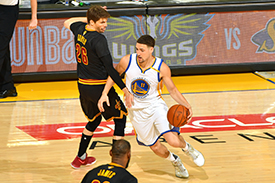 SONOMA, Calif. (Sept. 13, 2017) – Golden State Warriors All-Star Klay Thompson has been named Grand Marshal of the GoPro Grand Prix of Sonoma Verizon IndyCar Series season finale at Sonoma Raceway, Sept. 15-17.
Thompson, a shooting guard for the reigning NBA Champions, was selected in the first round of the 2011 NBA draft by Golden State with the 11th overall pick. In 2014, he and teammate Stephen Curry set a then-NBA record of 484 combined three-pointers in a season, earning the pair the nickname the "Splash Brothers".
Thompson is a three-time NBA All-Star and a two-time All-NBA Third Team honoree. In 2015, he helped lead the Warriors to their first NBA Championship since 1975. Thompson then helped the Warriors return to the NBA Finals for a third straight year in 2017, winning his second NBA Championship.

In his role as Grand Marshal of the GoPro Grand Prix of Sonoma, Thompson will take part in pre-race activities on Sunday, Sept. 17, give the official command of, "Drivers, Start Your Engines" and wave the green flag. Thompson will also enjoy a high-speed lap around the road course with racing legend Mario Andretti in a two-seat Indy car. This will mark his first visit to a motorsports event.
"I am beyond excited to be Grand Marshal for the GoPro Grand Prix of Sonoma," said Thompson. "I have heard so many good things about this race, and I can't wait to see everything up close in person."
Thompson is extremely active with Warriors community outreach programs and has been recognized off the court for his efforts in the community. He received the NBA Cares Community Assist Award for November 2014 and the Alvin Attles Community Impact Award in April 2015 in recognition of his efforts to make a positive impact on the lives of underserved youth in the Bay Area.
"Klay is a core member of one of the greatest sports teams in Bay Area history. He's a true champion and we're excited he will be with us to help crown the 2017 Verizon IndyCar Series champion this Sunday," said Steve Page, Sonoma Raceway president and general manager.
For more information or to purchase tickets for the GoPro Grand Prix of Sonoma, including preferred parking, garage access, pit and pre-race passes, visit www.sonomaraceway.com/indycar or call 800-870-7223. Kids 12 and under are admitted FREE all weekend and parking is FREE.
###
GoPro Grand Prix of Sonoma
Verizon IndyCar Series Season Finale

WHEN: Sept. 15-17
CIRCUIT: 12-turn, 2.38-mile road course
2016 WINNER: Simon Pagenaud (Team Penske)
INFORMATION: 800-870-RACE (7223), sonomaraceway.com/indycar
SOCIAL MEDIA: @RaceSonoma; #GoProGP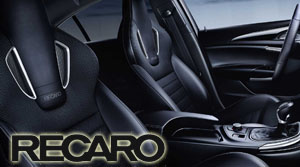 2017 Major Events
At Sonoma Raceway
Sonoma Historic Motorsports Festival
June 2-4
Toyota/Save Mart 350
NASCAR Weekend
June 23-25
NHRA Division 7 drag races, presented by Korbel
July 21-23
Toyota NHRA Sonoma Nationals
July 28-30
MotoAmerica Series presents the Championship
at Sonoma Raceway
Aug. 11-13
GoPro Grand Prix of Sonoma
Sept. 15-17
Classic Sports Racing Group
Charity Challenge
Sept. 29-Oct. 1