SMM Feature Profile
1956 Studebaker Golden Hawk
Owner: Gwin Stumbaugh/Santa Rosa, California
Story by J.R. Andres
Photography by Deborah A. Hepper and J.R. Andres
The American automotive landscape of 1956, with few exceptions, was awash with cars that carried over much of the bulbous shapes and swoops of the pre-war era just prior to the "1957 Age of Space"
designs that brought forth rocket themed fins and jet airplane inspired styling. In the mid-1950's, the Big Three had the U.S. market locked up by virtue of their sales figures which ran in the millions and the general populace flocked to General Motors, Chrysler and Ford dealerships in droves, ignoring the virtues of the automobiles the boys in South Bend, Indiana were making. We liked what we saw in our neighbor's driveway and we enjoyed being different but not too much so and for most people in 1956, a Studebaker was just too far removed from the tastes of mainstream America.
Never afraid to test the leading edge of styling, Studebaker enlisted the aid of none other than Raymond Loewy in 1953 to design their futuristic Starliner, which though beautiful in execution as a full-production styling exercise, fared poorly in the marketplace. Lowey applied his talents once again in 1956 with an updated version of the original 1953 design which the corporation named Golden Hawk, a low production (4071 units/with approximately 350 units still in existence) and expensive automobile that once again flew in the face of conventional thinking and style.

In retrospect, a comparison between the Golden Hawk and its Big Three brethren is difficult even today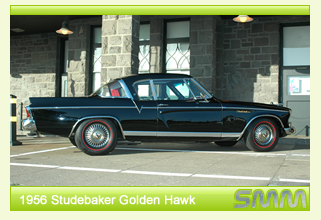 because the styling and the amenities in the Studebaker seem so advanced and in many ways more refined than what appeared in most cars manufactured in 1956 as evidenced by the use of fiberglass body components, a power to weight ratio rivaling that of the Chrysler 300B, leather interiors, and an engine turned dash with full instrumentation.
Gwin Stumbaugh, a Corvette guy from way back wanted something different in his garage and he set his sights upon a '56 Golden Hawk, a car that he eventually located in Georgia after two years of searching, followed by another agonizing six months of negotiations before the deal was finalized. He agrees that it was well worth the effort to have a significant piece of automotive history that today embodies the vision and the innovation the Studebaker Corporation had once strived so hard to attain at a time when the odds were stacked against them.
Vehicle Specifications

Point of Manufacture: Los Angeles, California
Transmission: Borg-Warner T-85 3-speed manual/presently Borg-Warner T-10 4-speed
Carburetion: WCFB-2394S/presently Carter/Edelbrock AFB
Brakes: four wheel discs
Engine: 352 cubic inch Packard OHV-V8 rated at 275 bhp
Tires: 850/15 redline bias ply

1956 Studebaker Golden Hawk Photo Gallery


Klay Thompson Named Grand Marshal
of GoPro Grand Prix of Sonoma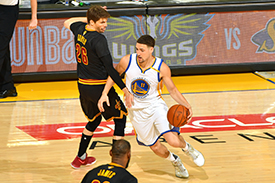 SONOMA, Calif. (Sept. 13, 2017) – Golden State Warriors All-Star Klay Thompson has been named Grand Marshal of the GoPro Grand Prix of Sonoma Verizon IndyCar Series season finale at Sonoma Raceway, Sept. 15-17.
Thompson, a shooting guard for the reigning NBA Champions, was selected in the first round of the 2011 NBA draft by Golden State with the 11th overall pick. In 2014, he and teammate Stephen Curry set a then-NBA record of 484 combined three-pointers in a season, earning the pair the nickname the "Splash Brothers".
Thompson is a three-time NBA All-Star and a two-time All-NBA Third Team honoree. In 2015, he helped lead the Warriors to their first NBA Championship since 1975. Thompson then helped the Warriors return to the NBA Finals for a third straight year in 2017, winning his second NBA Championship.

In his role as Grand Marshal of the GoPro Grand Prix of Sonoma, Thompson will take part in pre-race activities on Sunday, Sept. 17, give the official command of, "Drivers, Start Your Engines" and wave the green flag. Thompson will also enjoy a high-speed lap around the road course with racing legend Mario Andretti in a two-seat Indy car. This will mark his first visit to a motorsports event.
"I am beyond excited to be Grand Marshal for the GoPro Grand Prix of Sonoma," said Thompson. "I have heard so many good things about this race, and I can't wait to see everything up close in person."
Thompson is extremely active with Warriors community outreach programs and has been recognized off the court for his efforts in the community. He received the NBA Cares Community Assist Award for November 2014 and the Alvin Attles Community Impact Award in April 2015 in recognition of his efforts to make a positive impact on the lives of underserved youth in the Bay Area.
"Klay is a core member of one of the greatest sports teams in Bay Area history. He's a true champion and we're excited he will be with us to help crown the 2017 Verizon IndyCar Series champion this Sunday," said Steve Page, Sonoma Raceway president and general manager.
For more information or to purchase tickets for the GoPro Grand Prix of Sonoma, including preferred parking, garage access, pit and pre-race passes, visit www.sonomaraceway.com/indycar or call 800-870-7223. Kids 12 and under are admitted FREE all weekend and parking is FREE.
###
GoPro Grand Prix of Sonoma
Verizon IndyCar Series Season Finale

WHEN: Sept. 15-17
CIRCUIT: 12-turn, 2.38-mile road course
2016 WINNER: Simon Pagenaud (Team Penske)
INFORMATION: 800-870-RACE (7223), sonomaraceway.com/indycar
SOCIAL MEDIA: @RaceSonoma; #GoProGP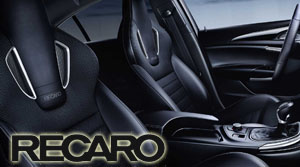 2017 Major Events
At Sonoma Raceway
Sonoma Historic Motorsports Festival
June 2-4
Toyota/Save Mart 350
NASCAR Weekend
June 23-25
NHRA Division 7 drag races, presented by Korbel
July 21-23
Toyota NHRA Sonoma Nationals
July 28-30
MotoAmerica Series presents the Championship
at Sonoma Raceway
Aug. 11-13
GoPro Grand Prix of Sonoma
Sept. 15-17
Classic Sports Racing Group
Charity Challenge
Sept. 29-Oct. 1