International Smorgasbord
FIA World Touring Car Championship Series-Sonoma
Introduction and Photos by: J.R. Andres/SMM Editor-in-Chief
Sonoma, Calif. (September 8, 2013) — Imagine being in a restaurant that specialized in four-star offerings from at least 13 different countries. Each has different taste and yet each is somehow the same. The FIA WTCC Series is somewhat like that and for the second year, the rock-em sock-em cars from Europe put on an impressive show that demonstrated the skill and the daring it takes to wheel these compact pocket rockets at speeds the NTSA would never recommend. On the downside, the races are only 13 laps but maybe that's a blessing, since longer races would result in total destruction. Its refreshing to see ra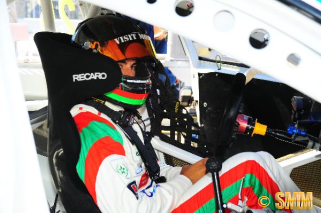 cers not hesitant to trade paint even during the warmups and totally entertaining to see what can be done with short wheelbase subcompacts like the Chevy Cruze and LADA Grantas, cars most of us have designated as weekly grocery getters.
Tom Chilton and Gabriele Tarquini recorded victories on Sunday in the FIA World Touring Car Championship's (WTCC) second visit to the United States at Sonoma Raceway.
Chilton (Chevrolet) converted his first-ever WTCC pole position into his maiden victory in the first 13-lap sprint race around the 12-turn, 2.50-mile road course, holding off a determined challenge from Tiago Monteiro (Honda).
Chilton's teammate, Yvan Mulller, on the verge of securing his fourth WTCC title, started from second place on the grid, but was passed by Monteiro in the second corner of the 13-lap race. Muller then drove a comfortable race to finish in third place.
"It was a tough race. Tiago was fully lit and I had to make sure I made no mistakes whatsoever, which is very hard to do here," said Chilton. "What a place to win my first WTCC race; it's a really cool place and I really love this track – it's mega!"
Tarquini's victory in the second race at Sonoma also meant that Honda mathematically secured the WTCC Manufacturers' Championship in its first full season in the series. After starting in second place, it took only two corners for Tarquini to pass pole-sitter Mehdi Bennani (BMW), and the Italian led for the remainder of the 13-lap race to take a comfortable victory.
Despite struggling throughout the race with damaged power-steering, Bennani held on for a second-place finish. Norbert Michelisz (Honda) was third, fending off a late-race challenge from Muller throughout the closing laps.
"The key to my victory was the start. It's quite unbelievable and a masterpiece because to beat a rear-wheel drive car under acceleration is very, very nice," said Tarquini.
With the second- and fourth-place finishes, Muller extends his dominating points lead over second-place Tarquini (343-199) in the championship as the season concludes in China, Japan and Macau. Muller is looking for his fourth consecutive championship.
In other racing on Sunday, Vacaville's Tim Barber (Touring Car) and Los Angeles' Geoff Sykes (GT) posted victories in the U.S. Touring Car Race 2.
FIA/WTCC 2013 Sonoma Race Results
| Race 1 | Race2 |
| --- | --- |
| 1. Tom Chilton — Chevrolet Cruze | 1. Gabriele Tarquini — Honda |
| 2. Tiago Monteiro — Honda Civic | 2. Mehdi Bennani — BMW |
| 3. Yvan Muller — Chevrolet Cruze | 3. Norbert Michelisz — Honda |
| 4. Alex MacDowall — Chevrolet Cruze | 4. Yvan Muller — Chevrolet Cruze |
| 5. James Nash — Chevrolet Cruze | 5. Tiago Monteiro — Honda |
| 6. Gabriele Tarquini — Honda | 6. Tom Coronel — BMW |
| 7. Tom Coronel — BMW | 7. Fredy Barth — BMW |
| 8. Robert Huff — SEAT | 8. James Nash — Chevrolet Cruze |
| 9. Marc Basseng — SEAT | 9. Marc Basseng — SEAT |
| 10. Stefano D'Aste — BMW | 10. Stefano D'Aste — BMW |

Klay Thompson Named Grand Marshal
of GoPro Grand Prix of Sonoma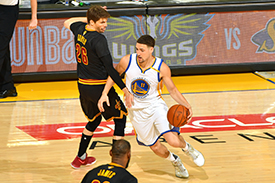 SONOMA, Calif. (Sept. 13, 2017) – Golden State Warriors All-Star Klay Thompson has been named Grand Marshal of the GoPro Grand Prix of Sonoma Verizon IndyCar Series season finale at Sonoma Raceway, Sept. 15-17.
Thompson, a shooting guard for the reigning NBA Champions, was selected in the first round of the 2011 NBA draft by Golden State with the 11th overall pick. In 2014, he and teammate Stephen Curry set a then-NBA record of 484 combined three-pointers in a season, earning the pair the nickname the "Splash Brothers".
Thompson is a three-time NBA All-Star and a two-time All-NBA Third Team honoree. In 2015, he helped lead the Warriors to their first NBA Championship since 1975. Thompson then helped the Warriors return to the NBA Finals for a third straight year in 2017, winning his second NBA Championship.

In his role as Grand Marshal of the GoPro Grand Prix of Sonoma, Thompson will take part in pre-race activities on Sunday, Sept. 17, give the official command of, "Drivers, Start Your Engines" and wave the green flag. Thompson will also enjoy a high-speed lap around the road course with racing legend Mario Andretti in a two-seat Indy car. This will mark his first visit to a motorsports event.
"I am beyond excited to be Grand Marshal for the GoPro Grand Prix of Sonoma," said Thompson. "I have heard so many good things about this race, and I can't wait to see everything up close in person."
Thompson is extremely active with Warriors community outreach programs and has been recognized off the court for his efforts in the community. He received the NBA Cares Community Assist Award for November 2014 and the Alvin Attles Community Impact Award in April 2015 in recognition of his efforts to make a positive impact on the lives of underserved youth in the Bay Area.
"Klay is a core member of one of the greatest sports teams in Bay Area history. He's a true champion and we're excited he will be with us to help crown the 2017 Verizon IndyCar Series champion this Sunday," said Steve Page, Sonoma Raceway president and general manager.
For more information or to purchase tickets for the GoPro Grand Prix of Sonoma, including preferred parking, garage access, pit and pre-race passes, visit www.sonomaraceway.com/indycar or call 800-870-7223. Kids 12 and under are admitted FREE all weekend and parking is FREE.
###
GoPro Grand Prix of Sonoma
Verizon IndyCar Series Season Finale

WHEN: Sept. 15-17
CIRCUIT: 12-turn, 2.38-mile road course
2016 WINNER: Simon Pagenaud (Team Penske)
INFORMATION: 800-870-RACE (7223), sonomaraceway.com/indycar
SOCIAL MEDIA: @RaceSonoma; #GoProGP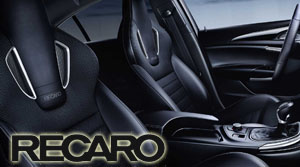 2017 Major Events
At Sonoma Raceway
Sonoma Historic Motorsports Festival
June 2-4
Toyota/Save Mart 350
NASCAR Weekend
June 23-25
NHRA Division 7 drag races, presented by Korbel
July 21-23
Toyota NHRA Sonoma Nationals
July 28-30
MotoAmerica Series presents the Championship
at Sonoma Raceway
Aug. 11-13
GoPro Grand Prix of Sonoma
Sept. 15-17
Classic Sports Racing Group
Charity Challenge
Sept. 29-Oct. 1