2013 SONOMA NATIONALS QUALIFYING
Article and Images by: John R. Andres/SMM Editor-in-Chief
SONOMA, Calif. (July 26, 2013) – Funny Car points leader, Matt Hagan, raced to the qualifying lead in dominating fashion Friday at the NHRA Sonoma Nationals at Sonoma Raceway.
Dave Grubnic( Top Fuel), Mike Edwards (Pro Stock) and Hector Arana Jr. (Pro Stock Motorcycle) also were qualifying leaders in their respective catagories during the NHRA Mello Yello Drag racing Series Event.
Hagan's track record performance of 3.986 seconds at 320.51 mph in his Magneti Marelli/Rocky Boots Dodge Charger tied the second-quickest and sixth-fastest runs for a Funny Car in NHRA history and it capped an exciting and fast first day of qualifying where several track records were reset. Qualifying continues on Saturd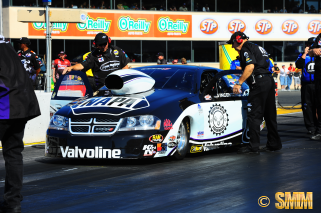 ay at 12:15 p.m. and 2:15 p.m. Eliminations are scheduled for Sunday at 11 a.m.
Sonoma Raceway became the fifth NHRA Mello Yello Drag Racing Series track to showcase four-second Funny Car runs. Jack Beckman drove his Valvoline/MTS Dodge Charger to a performance of 3.994 at 319.67 to join Hagan in the three-second zone.
"The only word to describe it is awesome," Hagan said. "Dickie [Venables, crew chief] went back and put a new [fuel] pump on it and said, 'Hey, kid. Hold on.' Dickie was swinging for the fence, and it stuck. I wish everyone could feel how it feels to go that fast. It's one of the coolest things on earth. As soon as the clutch went 1:1, it put me back in the seat and just kept climbing."
In Top Fuel, Grubnic powered his Optima Batteries dragster to the front of the order in Top Fuel with a track record time of 3.765 at 324.28. Native Australian Grubnic has yet to record a No. 1 position this season and has nine in his career.
"We've been No. 1 in the past, and it's great to be No. 1 again," Grubnic said. "It's a great job by [owner/tuner] Connie Kalitta. I can't thank him and the crew enough. For me to come here and represent Optima Batteries and longtime sponsor Red Line Oil at their home race is fantastic. I used that whole lane. We were getting every little bit of it that we could out there. I think it can hold up, but we're not going to count our chickens before they hatch. It only takes a thousandth of a second to drop it."
In Pro Stock, Edwards continued his qualifying mastery by powering his K&N Filters/I Am Second Chevy Camaro to the qualifying lead with a run of 6.526 at 212.23. Edwards, who has never won at Sonoma, has 10 No. 1 qualifying positions this season and 51 in his career.
"We made a lot better run the second time around," Edwards said. "We had transmission problems there going into fourth gear and we need to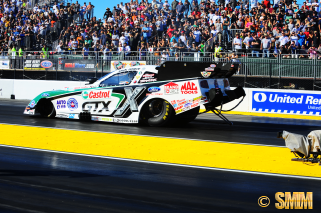 look at that and see what's going on. If not for that, I think I could have run a low 6.51. It does feel good to come here and run well. We've run good here before. We didn't do so well in Denver, but that's over and done with. Hopefully we can move on."
In Pro Stock Motorcycle, Arana Sr. was quickest on his Lucas Oil Products Buell with a run of 6.894 seconds at 190.86 mph. His two sons, Adam and Hector Jr., were second and third in the qualifying order.
"It's cool," Arana Sr. said. "This is something I wanted to see happen. Now we just need to stay calm and collected tomorrow and keep the same pace. We want to stay No. 1, 2, and 3 that's my dream. Before we ran, I walked over to Adam and told him to stay calm and don't let anything bother you. Then I kept seeing the numbers dropping and thought that I needed to listen to myself. When Adam ran that 6.90, I was tickled to death. I didn't think I ran better because I had been struggling. I was happy to see a 6.89."
TOP TEN QUALIFIERS


Pro Stock Motorcycle
Pro Stock
1. Hector Arana – 6.894 @ 190.86 MPH
1. Mike Edwards – 6.526 @ 212.23 MPH
2. Adam Arana – 6.902 @ 192.19 MPH
2. Shane Gray – 6.532 @ 211.20 MPH
3. Hector Arana Jr. – 6.906 @ 191.62 MPH
3. Allen Johnson – 6.536 @ 210.21 MPH
4. Matt Smith – 6.927 @ 189.55 MPH
4. Greg Anderson - 6.545 @ 210.57 MPH
5. LE Tonglet – 6.929 @ 191.35 MPH
5. V Gaines – 6.551 @ 210.87 MPH
6. Steve Johnson – 6.941 @ 190.62 MPH
6. Rickie Jones – 6.554 @ 210.80 MPH
7. Jerry Savoie – 6.942 @ 187.39 MPH
7. Vincent Nobile – 6.558 @ 210.21 MPH
8. Eddie Krawiec – 6.945 @ 191.62 MPH
8. Rodger Brogdon – 6.568 @ 210.90 MPH
9. Mike Ray – 6.960 @ 186.64 MPH
9. Jason line – 6.571 @ 210.64 MPH
10. Katie Sullivan – 6.975 @ 187.50 MPH
10. Larry Morgan – 6.583 209.95 MPH
Funny Car
Top Fuel
1. Matt Hagan – 3.986 @ 320.51 MPH
1. David Grubnic – 3.765 @ 324.48 MPH
2. Jack Beckman – 3.994 @ 319.67 MPH
2. Steve Torrence – 3.766 @ 323.27 MPH
3. Ron Capps – 4.012 @ 312.50 MPH
3. Doug Kalitta – 3.780 @ 324.83 MPH
4. John Force – 4.025 @ 316.60 MPH
4. Khalid Balooshi – 3.789 @ 320.97 MPH
5. Tim Wilkerson – 4.026 @ 314.09 MPH
5. Spencer Massey – 3.793 @ 314.17 MPH
6. Gary Densham – 4.055 @ 304.32 MPH
6. Shawn Langdon – 3.797 @ 321.96 MPH
7. Courtney Force – 4.057 @ 314.46 MPH
7. Antron Brown – 3.803 @ 320.66 MPH
8. Robert Hight – 4.058 @ 311.41 MPH
8. T.J. Rizzo – 3.821 @ 319.37 MPH
9. Bob Tasca III – 4.080 @ 307.23 MPH
9. Morgan Lucas – 3.827 @ 319.37 MPH
10. Cruz Pedregon – 4.145 @ 298.27 MPH
10. Bob Vandergriff – 3.839 @ 316.75 MPH

Klay Thompson Named Grand Marshal
of GoPro Grand Prix of Sonoma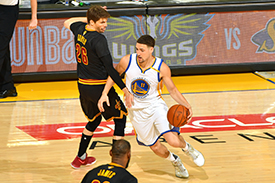 SONOMA, Calif. (Sept. 13, 2017) – Golden State Warriors All-Star Klay Thompson has been named Grand Marshal of the GoPro Grand Prix of Sonoma Verizon IndyCar Series season finale at Sonoma Raceway, Sept. 15-17.
Thompson, a shooting guard for the reigning NBA Champions, was selected in the first round of the 2011 NBA draft by Golden State with the 11th overall pick. In 2014, he and teammate Stephen Curry set a then-NBA record of 484 combined three-pointers in a season, earning the pair the nickname the "Splash Brothers".
Thompson is a three-time NBA All-Star and a two-time All-NBA Third Team honoree. In 2015, he helped lead the Warriors to their first NBA Championship since 1975. Thompson then helped the Warriors return to the NBA Finals for a third straight year in 2017, winning his second NBA Championship.

In his role as Grand Marshal of the GoPro Grand Prix of Sonoma, Thompson will take part in pre-race activities on Sunday, Sept. 17, give the official command of, "Drivers, Start Your Engines" and wave the green flag. Thompson will also enjoy a high-speed lap around the road course with racing legend Mario Andretti in a two-seat Indy car. This will mark his first visit to a motorsports event.
"I am beyond excited to be Grand Marshal for the GoPro Grand Prix of Sonoma," said Thompson. "I have heard so many good things about this race, and I can't wait to see everything up close in person."
Thompson is extremely active with Warriors community outreach programs and has been recognized off the court for his efforts in the community. He received the NBA Cares Community Assist Award for November 2014 and the Alvin Attles Community Impact Award in April 2015 in recognition of his efforts to make a positive impact on the lives of underserved youth in the Bay Area.
"Klay is a core member of one of the greatest sports teams in Bay Area history. He's a true champion and we're excited he will be with us to help crown the 2017 Verizon IndyCar Series champion this Sunday," said Steve Page, Sonoma Raceway president and general manager.
For more information or to purchase tickets for the GoPro Grand Prix of Sonoma, including preferred parking, garage access, pit and pre-race passes, visit www.sonomaraceway.com/indycar or call 800-870-7223. Kids 12 and under are admitted FREE all weekend and parking is FREE.
###
GoPro Grand Prix of Sonoma
Verizon IndyCar Series Season Finale

WHEN: Sept. 15-17
CIRCUIT: 12-turn, 2.38-mile road course
2016 WINNER: Simon Pagenaud (Team Penske)
INFORMATION: 800-870-RACE (7223), sonomaraceway.com/indycar
SOCIAL MEDIA: @RaceSonoma; #GoProGP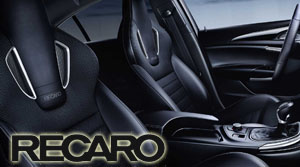 2017 Major Events
At Sonoma Raceway
Sonoma Historic Motorsports Festival
June 2-4
Toyota/Save Mart 350
NASCAR Weekend
June 23-25
NHRA Division 7 drag races, presented by Korbel
July 21-23
Toyota NHRA Sonoma Nationals
July 28-30
MotoAmerica Series presents the Championship
at Sonoma Raceway
Aug. 11-13
GoPro Grand Prix of Sonoma
Sept. 15-17
Classic Sports Racing Group
Charity Challenge
Sept. 29-Oct. 1