The Way it Really Was…
1965 Plymouth Belvedere I Super Stock
Article and Images by: John R. Andres/SMM Editor-in-Chief
There was a time, not so long ago, when racing a Super Stock Plymouth or Dodge meant that you were likely going home with the S/SA trophy. Today, only vestiges from this almost forgotten past remain to remind grey haired drag racing fans of the excitement that Chrysler had created and the successes they had enjoyed for so many years after playing the poor relation, walking two steps behind, following in the shadows of the almighty and unstoppable GM
juggernaut.
With the exception of a few bright spots, the 1950's were quiet times for the Chrysler Corporation. Sure they had the Kiekhaefer Chrysler 300 Hemis that blew the doors off the Fords and the Chevys and the Pontiacs on Daytona's sandy stretches of beach but when it came to drag racing, the MoPar boys only held sway in the dragster ranks where their supercharged Hemi powered rails showed the other competitors the door, week in and week out.
When the 1960s arrived, it seemed as if the winds of change were once again waning for Chrysler with the advent of Chevy's 409 truck inspired motor, Pontiac's 421 and Ford's occasionally hot 406. Hot Rod Magazine lauded GM's groundbreaking engineering and the unbeatable prodigy they had developed. It was never ending litany of unconditional love, which continues to this day and the GM showrooms were full of wide eyed kids ready to plunk down their cash so they co
uld join in on the "Cavalcade of Stars". During this same period of time, Chrysler managed to cling to its number three position only by selling an outrageous number of taxi cabs and police cars, dependable and sensible vehicles that were, for the most part, very utilitarian and very unexciting. The introduction of the unibodied mid-size line (aka B-bodies) in 1962 put the Dodges and Plymouths on a major weight loss regimen but styling was still a concern. Additional developments in 1962 included a new and improved transmission, the aluminum bodied three-speed 727 Torqueflite, with what many considered laughable: "dial-a-gear" pushbuttons. It wasn't long before Chrysler engineering got the bright idea of stuffing the already available 413 Wedge into one of these cars just to see what would happen. The results were very encouraging and all of a sudden the revered 409s and 421s weren't making it to the Winner's Circle with the regularity and the consistency they had come to expect.
Within a short period of time, the four-speed Super Stock heroes of 1961-62 were wondering what went wrong. Their fantasies and dreams fueled by "She's Real Fine, My 409" had ended in a nightmare that took the shape of a cheap ungainly looking taxi cab inspired post sedan with a push button automatic transmission, leading them to the finish line. When thes
e cars first came on the scene, even the hardcore GM stalwarts grudgingly admitted that they weren't pretty but they sure were fast. What had gone around for so long had finally come around full circle and the boys at GM's corporate headquarters on Detroit's West Grand Boulevard were none too happy about it.
With the horses literally already out of the corral, Chrysler continued to develop the good thing they had stumbled upon and before long, the dual quad 413 morphed into the 426 Max Wedge series in 1963 and continued for nearly a year until the newly designed race Hemi went into production in early 1964. NASCAR successes at Daytona naturally lead to the first public exhibition of the Hemi's capabilities at Detroit Dragway when the Ferndale, Michigan based Ramchargers Dodge sedan, driven by Jim Thornton, made an unannounced and unanticipated solo/test run, clocking an unheard of ET of 11.22 seconds at nearly 123 MPH, which this writer personally observed on a cold and wintery Sunday afternoon in March of 1964.
Surprisingly, GM was nowhere to be found in the top stock car classes. They were victims of cars that could
n't shed pounds, engines that needed more power and a Corporate dictum that stated racing in all forms was evil and surely un-American. Only Ford was lurking in the shadows with its 427 Fairlane Thunderbolts and Mercury Comets, who, like the earlier FE motored tri-powered 406's, displayed periodic greatness. It became obvious that if you wanted to win, the only show in town was Chrysler. Hell, you could go to your local Dodge or Plymouth dealership and get a ready to race steel-fendered Super Stock direct from the factory for nearly the price of a clapped out snowmobile in today's market.
Continued development in 1965 featured vastly improved styling and a litany of dealer available parts to make sure you didn't go home empty handed following Saturday nights eliminations. At the forefront were the Plymouths and A-990 Dodges that later became the groundbreaking and outrageous altered wheelbase funny cars that gradually progressed from carburetion and gasoline, to injection, hydrazene and nitromethane. As the 60's wore on, Chrysler seemed to have the right mojo and drag racing dominance extended from the top to the bottom classes or at least it extended to the classes that really matter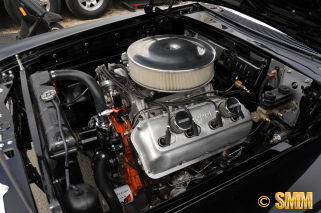 ed, the ones that gave real street and strip "cred" to big and small town late night boulevard hot shoes and the grassroots hardcore racers who sought recognition and something to brag about on Monday morning.
It all seemed to come to an end in the early 1970's. Ford and GM had begun to develop drag racing packages that were once again competitive in the higher stock classes, much to the dismay of Chrysler's product development engineers who were probably ready to move on anyway. Maybe it was the NHRA rule changes, gas shortages or rising insurance rates for high performance cars. Maybe it was concern about the environment and the use of leaded gasoline. Whatever the reason, the market for looking good and going fast wasn't as profitable or cool as it used to be and the Corporation never ever again assumed the place of dominance it once occupied, leaving only a handful of the faithful left to campaign aging cars that had once dominated the landscape, the ones who garnered fame (and cash) at strips and public highways across the nation.
Most of the cars that survive today were the ones that were parked in garages, in lean-to sheds, barns or in fields and then forgotten. For many, the ravages of time took a toll that made resurrection difficult or impo
ssible but the increasing value of a race car with history or the value of nearly any properly restored 1960's B-body made it worth the cost and the effort because they represented something different (sound familiar?) on the automotive scene. Interest in these cars was (and still is) hot in part because you aren't dealing with yet another Mustang, Z-28 Camaro, GTO, Chevelle or Tri-Year Chevrolet. An increasing number of younger drag racers rediscovered the potential these cars had, particularly in the upper Super Stock classes and with parts that used to be found only in the domain of bone-yards available once again coupled with computerized engine management, found that they too could compete evenly, beating legions of hardcore Chevrolet Bowtie devotees with regularity and impunity. Even though they are outnumbered 10 to 1, their presence is felt and it will continue to be increasingly felt as more and more of these cars come into being.
Northern California's Mark Madison is currently campaigning a 1965 Plymouth Belvedere I in the NHRA A/S class. We caught up to him at the 2012 Sonoma Nationals and were immediately impressed with the stellar appearance, the quality of workmanshi
p throughout and the on-track performance his car exhibited. Higher stock classes call for more of everything and Mark has stepped up to the plate in more ways than one. According to Mark, "In 1966 or 67 at the Salinas Drag Strip, my uncle, Jack Freese, let me sit in the passenger seat while he did a burnout prior to a run in his 63 max wedge Plymouth Savoy. At that point the hook was set…not just set but gut set. Remember this was the 60's and things were much different. Today they'd shoot you". "In 1988, my cousin Alan Freese, his father Jack and I built a 1964 max wedge for Alan to race in A/SA and to our delight, it turned out to be a very competitive car. At the time I had young kids and couldn't afford to race but the desire to have my own car was always there".
In November 2007, I purchased the Belvedere I from Comp racer, John Edwards for $7000.00. My wife, Anita, my cousin Alan and I went to look at it in John's storage facility during the 2007 NHRA finals. It was ROUGH to say the least. The Belvy had been a race car for a number of years and had gone through several owners each of which attempted to add their own creativity to it. The car had no front floor pans, the windshield was kicked in and the trans tunnel severely hacked. It had some sort of glorified swing set for a roll bar, the front inner fenders were cut to accept fender well headers and the undercarriage had some additional "structures" welded in".
"After the deal was struck, the car went to Bob Hansen's chassis shop in Azuza California, where Jeff Utt
erbeck performed the structural repairs and installed the roll cage. Hansen's place has done several of these cars, including Goldberg's 65 A-990 Dodge Coronet. From there, the car went to the Abrasive Finishing Company in order to remove the many layers of of paint and grime. The flawless paint and body work was done by John Howard in Chandler, Arizona, who painted the car in Matrix System black urethane. The repo hood scoop was fashioned by Joey Cole (aka Tin Man). After the paint was done, I brought the car home where I wired it and assembled it, like a giant model car kit in my own garage. The headliner, carpet and the door panels were supplied by Kramer Automotive".
"The engine was done by longtime friend, Rick Watters at RWR Race Engines in Glendale, Arizona. His presence in the NHRA record books speaks volumes of his quality workmanship and attention to detail. The engine is a .060 426 Race Hemi with 110M2 aluminum heads, a Bullet camshaft and an 850 Holley, per NHRA rules. Mark Lilchook of Performance Welding built the custom stainless steel headers. The transmission is a Jerico DR4-4 four-speed. Mike Sullivan of Applied Physics and Wayne County Speed supplied the clutch program. The suspension consist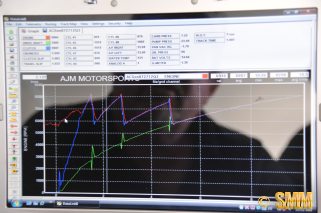 s of a split mono leaf design by John Calvert Racing along with his own style of traction bars. The rear end is a Strange Dana 60 with 5.57 gears spinning 40 spline axles. Brakes are Strange discs on a four corners".
"To date (2012), the car has run a best of 10.16 @ 130.49 MPH and that's with a 3610 lb. car. I'm hitting between 8100 to 8150 rpm in the lights".
Not being content to leave things as they are, Mark was planning some additional changes for the 2013 season in the hope that he will be able to shave more than a few tenths off his best time. We'll be looking for him at the 2013 NHRA Sonoma Nationals and will let our readers know how the newly improved version of the Belvy I performed. We're all expecting big things from this MoPar.

Klay Thompson Named Grand Marshal
of GoPro Grand Prix of Sonoma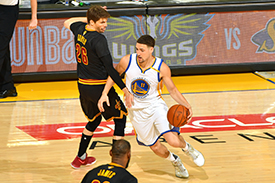 SONOMA, Calif. (Sept. 13, 2017) – Golden State Warriors All-Star Klay Thompson has been named Grand Marshal of the GoPro Grand Prix of Sonoma Verizon IndyCar Series season finale at Sonoma Raceway, Sept. 15-17.
Thompson, a shooting guard for the reigning NBA Champions, was selected in the first round of the 2011 NBA draft by Golden State with the 11th overall pick. In 2014, he and teammate Stephen Curry set a then-NBA record of 484 combined three-pointers in a season, earning the pair the nickname the "Splash Brothers".
Thompson is a three-time NBA All-Star and a two-time All-NBA Third Team honoree. In 2015, he helped lead the Warriors to their first NBA Championship since 1975. Thompson then helped the Warriors return to the NBA Finals for a third straight year in 2017, winning his second NBA Championship.

In his role as Grand Marshal of the GoPro Grand Prix of Sonoma, Thompson will take part in pre-race activities on Sunday, Sept. 17, give the official command of, "Drivers, Start Your Engines" and wave the green flag. Thompson will also enjoy a high-speed lap around the road course with racing legend Mario Andretti in a two-seat Indy car. This will mark his first visit to a motorsports event.
"I am beyond excited to be Grand Marshal for the GoPro Grand Prix of Sonoma," said Thompson. "I have heard so many good things about this race, and I can't wait to see everything up close in person."
Thompson is extremely active with Warriors community outreach programs and has been recognized off the court for his efforts in the community. He received the NBA Cares Community Assist Award for November 2014 and the Alvin Attles Community Impact Award in April 2015 in recognition of his efforts to make a positive impact on the lives of underserved youth in the Bay Area.
"Klay is a core member of one of the greatest sports teams in Bay Area history. He's a true champion and we're excited he will be with us to help crown the 2017 Verizon IndyCar Series champion this Sunday," said Steve Page, Sonoma Raceway president and general manager.
For more information or to purchase tickets for the GoPro Grand Prix of Sonoma, including preferred parking, garage access, pit and pre-race passes, visit www.sonomaraceway.com/indycar or call 800-870-7223. Kids 12 and under are admitted FREE all weekend and parking is FREE.
###
GoPro Grand Prix of Sonoma
Verizon IndyCar Series Season Finale

WHEN: Sept. 15-17
CIRCUIT: 12-turn, 2.38-mile road course
2016 WINNER: Simon Pagenaud (Team Penske)
INFORMATION: 800-870-RACE (7223), sonomaraceway.com/indycar
SOCIAL MEDIA: @RaceSonoma; #GoProGP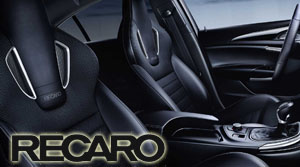 2017 Major Events
At Sonoma Raceway
Sonoma Historic Motorsports Festival
June 2-4
Toyota/Save Mart 350
NASCAR Weekend
June 23-25
NHRA Division 7 drag races, presented by Korbel
July 21-23
Toyota NHRA Sonoma Nationals
July 28-30
MotoAmerica Series presents the Championship
at Sonoma Raceway
Aug. 11-13
GoPro Grand Prix of Sonoma
Sept. 15-17
Classic Sports Racing Group
Charity Challenge
Sept. 29-Oct. 1