Edmonton Indy 2011
The Race that Almost Wasn't
Article by: John R. Andres/SMM Editor-in-Chief
Photographs by: J.R. Andres and CTV Television Network
City Centre Airport, Edmonton, Alberta July 24, 2011- As late as November 3, 2010, it was announced that Edmonton's IZOD IndyCar Race, scheduled for July 22-24, 2011 was going to be cancelled due to cost overruns that would have put the burden of an additional $2.5 million on the shoulders of Edmonton taxpayers who had already expended $12 million to cover the losses incurred over the preceding three years that the
race had been in existence under the control of Northlands. These bottom line cost overruns were the tipping points that seemingly snubbed out one of Western Canada's largest sporting events. No one was happy about the decision; the City of Edmonton, the IZOD IndyCar Series that was poised for a resurgence in popularity, especially in Canadian markets, the surrounding hotels and restaurants who depended upon the extra revenue and most of all the fans, who had been supportive of this venue even during the lean years.
Fast forward to January, 2011. The announcement came that the race was now under the direction and organization of Octane Motorsports Events Inc., who signed a three year contract with the City of Edmonton to keep the 2011 Edmonton Indy alive as long as certain physical plant improvements were made to the 2.256 mile (3.631 km) racecourse on the recently closed East runway. The newly designed configuration offered a challenging course consisting of a 90-degree Turn 1, two long straights and hairpins on Turns 5 and 13. Surrounding areas were also improved to enhance the racing experience for drivers as well as spectators. The Edmonton community had spoken and led by Mayor Stephen Mandel, the city fathers stepped up to the plate to save an event that had nearly gone down for the third time. It was an eleventh hour decision that put this stop on the IZOD IndyCar Tour back on the map for several more years.
Comments from several drivers prior to the race were favorable. Helio Castroneves stated: "Here we go back to Edmonton…a place where we've done very well, including last year. I joke around that I'm coming back to defend my race win and I think that's true, but of course we can't forget what happened there last year. Oh well, this season it's a new track so we can only hope for another great race, this time in our Penske Truck Rental car. After all that happened last time, it would really mean a lot to turn our season around with a strong finish in Edmonton." Ryan Brisco said: "I'm looking forward to learning the new circuit. The first time we raced in Edmonton I was able to earn the pole, which would be a great way to start the race this time around. We h
ave been quick on this type of circuit and I hope to get my first win of the season this weekend in Edmonton." and this year's eventual winner, Will Power, summed it up by saying: "I always look forward to race weekends and this one probably more than most. The Edmonton circuit has been a good one for the Verizon car and I really like the challenges that this course offers and racing in front of Canadian fans. We have had two poor finishes in a row, so we really need to put it all together this weekend and have a strong result. The new track configuration looks like it will allow us to pass, which will make it an interesting race for the drivers and an exciting race for the fans."
The anticipation and excitement this last minute turnaround generated was evident throughout the downtown area that was awash with window art and banners that left little doubt that the IZOD IndyCar Series was in town. Other events such as Indy driver autograph sessions at the West Edmonton Mall, North America's largest shopping and entertainment center, "Race Week Edmonton", the "Music Stage", "A Taste of Edmonton"  food event, the "Ford Fun Zone" and the "Jam in the Park", provided outside the fence activities as an opening act for the main event scheduled for Sunday.
On Friday of race weekend, the weather brought disappointment in the form of rain showers that left large areas of standing water on the track. Race activities scheduled for that day were repeatedly delayed and then suspended but that didn't hamper the unbelievable number of fans who braved the less than ideal conditions to take their place in the stands hoping that the rain would subside long enough to allow the cars to get a few laps in. Weather projections for the remainder of the weekend were tentative at best and thoughts of whether or not it was ever going to clear up and what would happen if after all of the hand-wringing, planning and angst of trying to resurrect this event, hoping to turn it into something successful and profitable, it was going to depend entirely upon the fickled tick of a barometric dial.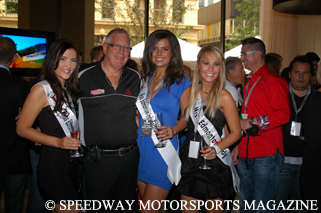 As luck would have it, Saturday turned out to be a partly cloudy day that stayed dry long enough to allow the completion of practice, qualifying and the first of two Firestone Indy Lights Twin 100 Races, which was won by Esteban Guerreiri in his Lucas Oil/Schmidt Motorsports car. Friday's showers left zero time for practice, set-ups and braking strategies, which amounted to some serious OJT when the Firestone Indy Lights drivers hit the bricks. It wasn't long before Peter Dempsey and Victor Carbone demonstrated what can happen in open wheel racing when tires touch, causing one car to climb over another. Turn 1 was the scene of spectacular rollover that sent Dempsey's Andretti car against the wall and skidding upside down on the track. His walking away from the mishap was a testament to the safety features each of these cars offers their occupants and the dangers of this type of racing the competitors live with every time they suit up.
Later in the day, IZOD IndyCar qualifying took center stage resulting in just two tenths of a second separating the top five positions. Japan's Takuma Sato ended up as the leader of the pack with an impressive 1:18.516 time and a speed of nearly 102 mph, followed by Will Power, Scott Dixon, Dario Franchitti, E.J. Viso, Ryan Briscoe, Ryan Hunter-Reay, Oriol Servia, Helio Castroneves and Toronto's James Hinchcliffe to round out the top ten. The remaining two Canadian drivers, Alex Tagliani and Paul Tracy, placed 17th and 25th respectively. It was Sato's second IndyCar pole and it was clear that it was a popular one, judging by the activity and excitement that took place during the Winner's Circle celebration that immediately followed.
Sunday morning was clear and bright which brought out throngs of spectators who lined up early to claim their seats. The day began with IndyCar warm-ups, the NASCC race and round two of the Firestone Indy Lights Twin 100 Race that was won by Saturday's second place finisher, Josef Newgarden, driving for Sam Schmidt Motorsports. Peter Dempsey, who had just the day before ended up with not the shiny side up, finished third.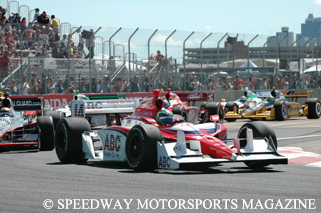 The Twin 100 Indy Lights races were special in a way that had nothing to do with the competition itself. They became special in this writer's eyes because an eleven year old boy by the name of Noah Johnson was the Grand Marshal. Dubbed "Kid Indy" by the Edmonton Sun, Noah, who suffers from spinal muscular atrophy, was on hand Saturday and Sunday to give the "Gentlemen start your engines" command. His ability to complete this task and relish in his role as the Grand Marshal this weekend served as an inspiration to those of us who will never have to contend with the challenges this young man will deal with the remainder of his life.
Things were gearing up for the estimated 12:52 PM green flag start and the conversation turned to how the rivalry between Power and Franchitti was going to unfold once the cars were underway. The two top title contenders from 2010 tangled last race in a wild event in the streets of Toronto as Franchitti spun Power in the second half of the race before the Scotsman went on to claim the victory. Power was also hit late in the race by Alex Tagliani and his day ended early. Power was critical of Franchitti's driving in the pivotal incident that has certainly had a bearing on this year's championship fight. At 12:45 PM, the words everyone was waiting for was given by Alex Boychuk of the Boston Bruins and the snakelike line of 26 cars, headed by Takuma Sato worked their way out toward Turn 1 behind the pace car. Anticipating the start, the fans stood on their feet waiting for the green flag to signal the beginning of the race.
After the race began and the competition became more intense, it was interesting to hear some candid spectator comments regarding this year's Edmonton Indy and to note the many positive thoughts and observations from the people who lined the walkways and the fences, shoulder to shoulder next to the K-wall and safety fence that stood by the outer perimeter of the track. "I've planned my vacation around this event since the beginning and somehow it seems even more special this year because it was cancelled and then brought back to life," said Brian Hutsfield of Lethbridge, "This crowd is awesome. It's more exciting this year because there are tons of people here and the double file restart is insane," commented Mike Simms of Fairview, "I can see the racecourse better than years past and there's more things to do," commented Wren McAlister of Edmonton, "This is the first year I've brought the kids along and they seem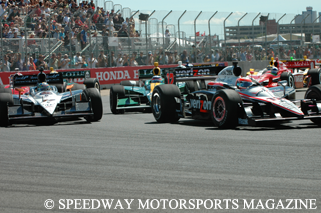 to be having a good time," Tom Grace of Bonnyville said and "It's turned out to be the kind of a weekend I think everyone was hoping for. I'm disappointed that Paul Tracy didn't make it beyond the first lap." said John Penrose from the Drayton Valley area. Was it the weather, the number of things to see and eat, the improved visibility of the track or maybe it was the Grid Girls, whatever the reason, those with disparaging comments either kept it to themselves or they didn't exist at all? The positive comments received from many of the drivers post-race, the president of Octane Management, Francois Dumontier and the Chief Executive of the IZOD IndyCar Series, Randy Bernard, would lead one to believe that the lifeline appearing on the Edmonton Indy palm is deep and unquestionably long.
The power of success is the key that unlocks the door to victory and the Australian, Will Power, driving for Verizon Team Penske, demonstrated his ability to master the newly reconfigured course at City Centre Airport much to the dismay of 25 other competitors who shared space with him throughout the afternoon on the 13 turn course set up on the eastern runway of the airport. Power had first stepped into Victory Lane in 2009 and judging by his ability to master a course he hadn't seen before there's no reason to think that his luck will change in the near future. The pole sitter, Takuma Sato had shown his ability to be fast and consistent but by Lap 19, Power capitalized on a Sato mistake and assumed the lead. Over the course of the remaining 61 laps the lead would change a total of four more times but it was always Power who appeared to have the right combination of speed, restraint and consistency. A win is a win but with only .8089 seconds between the first and second place finishers, Power would have liked to have had a larger margin between him and fellow Penske teammate Castroneves. It wasn't as if Helio wasn't trying but sometimes there just isn't enough track left to set up a pass that will last. The much discussed discord between Power and Franchitti never materialized over the weekend and it seemed to be a non-issue at last, when at the end of the race, Franchitti came into the Winner's Circle to congratulate the winner of the 2011 Edmonton Indy, Will Power.
Special Acknowledgements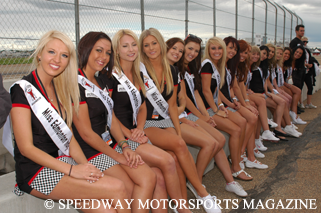 Speedway Motorsports Magazine wishes to express its sincere appreciation to the City of Edmonton (www.edmonton.com), the Edmonton Economic Development Corporation, Ms. Marie Laflamme of Octane Management Inc. and Mr. Randy Bernard of the IZOD IndyCar Series for making it possible for SMM to cover this event in Western Canada. A very special thank you goes out to Ms. Renee Worrell, Communication Manager, External Relations and Ms. Amy Wolski, Travel Media Relations Manager, two individuals whose assistance to this writer before, during and after race weekend was outstanding in all respects.
The City and the people of Edmonton came out for this event in a way seldom seen and it was clear that there was widespread support for this race in many quarters. By all accounts, the Edmonton Indy 2011 was an unqualified success and expectations for next year's event will surely surpass the gains that were realized this year. It's a race that should not be missed and the City of Edmonton's goal is to see that your stay in Alberta is one that you won't soon forget.
Official Results Top Ten/Firestone Indy Lights Race /Twin 100 #1
July 23, 2011/City Centre Airport/Edmonton, Alberta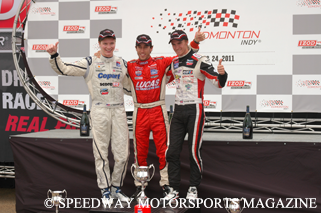 1) Esteban Guerrieri #7
2) Josef Newgarden #11
3) Oliver Webb #12
4) Stefan Wilson #5
5) Bruno Andrade #29
6) Gustava Yacaman #2
7) Jorge Goncalvez #4
8) Duarte Ferreira #28
9) Daniel Herrington #77
10) Stefan Rzadzinski #32
Time of Race:01:01:11.756
Avg Speed: 78.499
Number of Laps: 36
Lead Changes: 0
Caution Laps: 9
Fastest Lap: 96.540 mph (82.9337 sec) on lap 35 by Josef Newgarden
Fastest Leader Lap: 96.444 mph (83.0158 sec) on lap 36 by Esteban Guerreiri
Official Results Top Ten/Firestone Indy Lights Race/Twin 100 #2
July 24, 2011.City Centre Airport/Edmonton, Alberta
1) Josef Newgarden #11— Copart/Score/R-P/Schmidt Motorsports
2) Stefan Wilson #5— Andretti Motorsport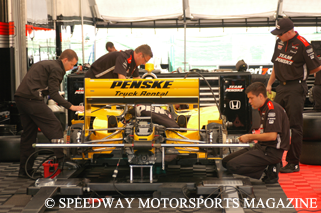 3) Peter Dempsey #26— Andretti Motorsport
4) Victor Carbone #3— Nevon/Schmidt Motorsports
5) Oliver Webb #12— Jensen MotorSport
6) Anders Krohn #9— Liberty Eng.
7) Daniel Harrington #77— Mazda Road
8) David Ostella #16— Global Precast
9) Duarte Ferreira #28— Herta Autosport
10) Tyler Dueck #44— Goree Multisport
Time of Race: 00:56.46.3800
Avg Speed: 94.017 mph
Number of Laps: 40
Margin of Victory: 14.5501 seconds
Lead Changes: 2
Caution Laps: 0
Fastest Lap: 96.380 mph (83.0712 sec) on lap 31 by Esteban Guerreiri
Fastest Leader Lap: 96.078 mph (83.3321 sec) on lap 8 by Josef Newgarden
Sunoco Pole Award: ($5,000) #11 Josef Newgarden
Firestone Image Awards: #12 Oliver Webb ($2,000), #16 David Ostella ($1,000), #29 Bruno Andrade ($500)
Official Results/Edmonton Indy 2011
July 24, 2011/City Centre Airport/Edmonton, Alberta
1) Will Power #12 — Verizon Team Penske
2) Helio Castroneves #3 — Penske Truck Rental

3) Dario Franchitti #10 — Target Chip Ganassi Racing
4) Tony Kanaan #82 — GEICO-KV Racing Technology
5) Justin Wilson #22 — Z-Line Design
6) Sebastien Bourdais #19 — BSA
7) Ryan Hunter–Reay #28 — Team DHL
8) Mike Conway#27 — Follow Andretti
9) Danica Patrick #7 — Go Daddy
10) Ryan Briscoe #6 — Penske Truck Rental
11) JR Hildebrand #4 — National Guard Racing
12) Vitor Meira #14 — ABC Supply Company
13) Ana Beatriz #24 — Team Ipiranga
14) Marco Andretti #26 — Team Dr. Pepper
15) James Hinchcliffe #06 — Sprott Newman/Haas
16) Sebastian Saavedra #34 — Bogota Es Mundial Racing
17) Alex Tagliani #77 — Bowers Wilkins/Schmidt
18) James Jakes #18 — Acorn Stairlifts
19) Charlie Kimbal #83 — Levemir & Novolog Flexpen
20) E.J. Viso #59 — PDVSA-KV Racing Tech-Lotus
21) Takuma Sato #5 — KV Racing Tech-Lotus
22) Oriol Servia #2 — Telemundo Newman/Haas
23) Scott Dixon #9 — Target Chip Ganassi Racing
24) Simona de Silvestro #78 — Nuclear Clean Air
25) Graham Rahal #38 — Service Central
26) Paul Tracy #8 — Make-A-Wish Dragon Racing
Time of Race: 10:57:22
Avg Speed: 90.949
Margin of Victory: .8089 of a second
Number of Laps: 90
Lead Changes: 6 among 5 drivers
Cautions: 2 for 8 laps
Fastest Lap: >101.399 mph (78.9590 sec) on lap 80 by Sebastien Bourdais
Fastest Leader Lap:101.152 mph (79.152 sec) by Dario Franchitti
Peak Performance Award:(#5 Takuma Sato, 1:18.5165, 101.971 mph)
Bonus Awards: Will Power ($35,000), Helio Castroneves ($25,000), Dario Franchitti ($20,000), Tony Kanaan ($15,000), Justin Wilson ($10,000)
All cars use the Dallara Chassis, Firestone Tires and Honda Engines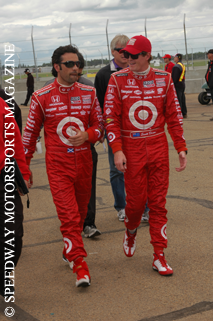 Current IZOD Indycar Series Driver's Standings
(as of July 24, 2011)
1) Dario Franchitti
2) Will Power
3) Scott Dixon
4) Tony Kanaan
5) Oriol Servia
6) Ryan Briscoe
7) Marco Andretti
8) Graham Rahal
9) Helio Castroneves/J.R. Hildebrand (tie)
11) Danica Patrick
12) Vitor Meira
13) Alex Tagliani
14) Justin Wilson
15) Mike Conway/Takuma Sato (tie)
17) Ryan Hunter-Reay
18) James Hinchcliffe
19) Simona de Silvestro
20) E.J. Viso


Klay Thompson Named Grand Marshal
of GoPro Grand Prix of Sonoma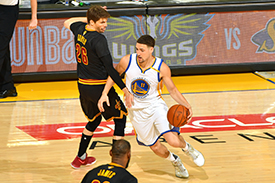 SONOMA, Calif. (Sept. 13, 2017) – Golden State Warriors All-Star Klay Thompson has been named Grand Marshal of the GoPro Grand Prix of Sonoma Verizon IndyCar Series season finale at Sonoma Raceway, Sept. 15-17.
Thompson, a shooting guard for the reigning NBA Champions, was selected in the first round of the 2011 NBA draft by Golden State with the 11th overall pick. In 2014, he and teammate Stephen Curry set a then-NBA record of 484 combined three-pointers in a season, earning the pair the nickname the "Splash Brothers".
Thompson is a three-time NBA All-Star and a two-time All-NBA Third Team honoree. In 2015, he helped lead the Warriors to their first NBA Championship since 1975. Thompson then helped the Warriors return to the NBA Finals for a third straight year in 2017, winning his second NBA Championship.

In his role as Grand Marshal of the GoPro Grand Prix of Sonoma, Thompson will take part in pre-race activities on Sunday, Sept. 17, give the official command of, "Drivers, Start Your Engines" and wave the green flag. Thompson will also enjoy a high-speed lap around the road course with racing legend Mario Andretti in a two-seat Indy car. This will mark his first visit to a motorsports event.
"I am beyond excited to be Grand Marshal for the GoPro Grand Prix of Sonoma," said Thompson. "I have heard so many good things about this race, and I can't wait to see everything up close in person."
Thompson is extremely active with Warriors community outreach programs and has been recognized off the court for his efforts in the community. He received the NBA Cares Community Assist Award for November 2014 and the Alvin Attles Community Impact Award in April 2015 in recognition of his efforts to make a positive impact on the lives of underserved youth in the Bay Area.
"Klay is a core member of one of the greatest sports teams in Bay Area history. He's a true champion and we're excited he will be with us to help crown the 2017 Verizon IndyCar Series champion this Sunday," said Steve Page, Sonoma Raceway president and general manager.
For more information or to purchase tickets for the GoPro Grand Prix of Sonoma, including preferred parking, garage access, pit and pre-race passes, visit www.sonomaraceway.com/indycar or call 800-870-7223. Kids 12 and under are admitted FREE all weekend and parking is FREE.
###
GoPro Grand Prix of Sonoma
Verizon IndyCar Series Season Finale

WHEN: Sept. 15-17
CIRCUIT: 12-turn, 2.38-mile road course
2016 WINNER: Simon Pagenaud (Team Penske)
INFORMATION: 800-870-RACE (7223), sonomaraceway.com/indycar
SOCIAL MEDIA: @RaceSonoma; #GoProGP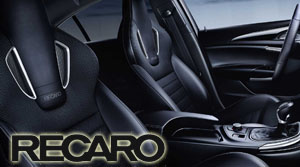 2017 Major Events
At Sonoma Raceway
Sonoma Historic Motorsports Festival
June 2-4
Toyota/Save Mart 350
NASCAR Weekend
June 23-25
NHRA Division 7 drag races, presented by Korbel
July 21-23
Toyota NHRA Sonoma Nationals
July 28-30
MotoAmerica Series presents the Championship
at Sonoma Raceway
Aug. 11-13
GoPro Grand Prix of Sonoma
Sept. 15-17
Classic Sports Racing Group
Charity Challenge
Sept. 29-Oct. 1