Make 'in It Look Easy
Toyota/Save Mart 350 NASCAR Sprint Cup Series
Article by: J. R. Andres/SMM Editor-in-Chief
Images by: J.R. Andres & Randy Jones/SMM Staff Photographer
Infineon Raceway – SONOMA, Calif., June 26, 2011 – He made it look easy…too easy. It almost made one wonder if it was Jeff Gordon or Jimmie Johnson or Marcus Ambrose or Boris Said behind the wheel. When the yellow Shell/Pennzoil #22 Dodge Charger R/T pulled into the Winner's Circle, there was no mistaking the fact that it actually was none other than Kurt Busch behind the wheel. The same Kurt Busch
who clearly dominated the field, winning his first ever road course race, the same one who hadn't tasted victory in his last 39 starts. Perhaps it shouldn't have been such a surprise after he turned in the fastest time in practice on Friday but practice is not qualifying and it sure isn't the race. The elder "Schrub" had come to Sonoma in 2011 with the determination of someone who wasn't going to be this year's also-ran. "I really do feel like we're closing in on getting that first Cup road course win. They don't give you anything out there; you have to scratch and claw and earn everything you get. I've seen our team continue to make progress and if we continue to get ourselves in a position to win, we're bound to capitalize on it sooner or later. Hopefully we can continue that progress at Sonoma on Sunday and finally win us one of these things." We were fastest in practice but just couldn't put down the qualifying lap we needed. We missed it in Turns 4 & 7 and were just slow in Turn 10. When you add all that up, you just can't give away that much time on this track. Our Shell/Pennzoil Dodge is really fast in race trim. We'll work on it tomorrow." Crew Chief, Steve Addington and this team's work payed off and none other than Kurt Busch was left standing with a celebratory glass of wine in his hand, basking in the glow and adulation of a cheering crowd on Sunday afternoon.
    With fuel mileage a concern, Busch made the most of his Sunoco ethanol blend and stretched it as far as he could, making only two pit stops. Starting from the 11th position, Busch gradually made his way through the field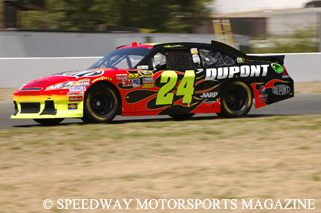 and ended up leading a total of 76 laps. Throughout most of the race, Busch was never really challenged. His Dodge seemed like it was on rails at times and the best road racers NASCAR had to offer seemed at times to be resigned to the fact that the #22 car was more than they could handle.
Seven different winners in as many years is testament to the difficulty factor Infineon has a reputation for and this weekend, lack of traction was a continuing concern that confounded many of the team's initial preparations. Whatever the secret formula was, the Shell/Pennzoil Charger was not to be denied its place in the sun this time.
Aside from the usual "banging" and "thrashing", Turn 11 was the sight of a dust-up that left Tony Stewart and his #14 Chevrolet high and dry, with its rear end propped up on the tire barrier after he and Brian Vickers settled their little ongoing "disagreement". A minor skirmish that occurred on Lap 39 turned into a bigger one on Lap 88. Apparently, Vickers didn't appreciate being spun out and he decided to put his head in the lion's mouth and even the score. No one knows if this is really the end of it but tongues continue to wag about when and not if Smoke's retribution will shake up Vicker's world once again. NASCAR history teaches us that an eye for an eye is never enough, especially when Tony is involved.
It wasn't all bad for Joey Logano either who won the coveted pole position for the Toyota/Save Mart 350 and ended up sixth in the main event. While piloting the FleetLocate Toyota, during the Thunder Valley Casino 200/NASCAR K&N Pro Series West on Saturday,  Logano surprised many of the odds makers with a hard fought win during a race that seemed to have more yellow flags than green flags. During the press conference following the race, Logano gave credit to the work that he and teammate, Kyle Busch had completed with the well known Italian racer, Max Papis. Logano said that he and Busch had practiced in a two seat car with Papis and that "… he'd ride a few laps and I'd ride along with him. We were all trying to learn from each other. Riding along with him and analyzing the data definitely helped."
This NASCAR weekend wasn't just about the current crop of drivers. It was also about the ones that came before. Bobby Allison, survivor of the infamous February 18, 1979 Cale Yarborough attack and Ned Jarrett, the soft spoken gentleman driver from Newton, North Carolina were on hand to sign autographs and answer questions from the crowd. It was clear that these members of the NASCAR Hall of Fame still had a following, judging from the long line of fans that stretched in and around Infineon's Winners Circle on Saturday.
Sunday's successful silent auction conducted by the Sonoma Chapter of Speedway Children's Charities consisted of donated NASCAR related items, some of which were signed by the drivers themselves. The proceeds derived from this yearly event are used to benefit youngsters within the County and the benefits to these children in need cannot be underestimated.
NASCAR Sprint Cup Series
Toyota/Save Mart 350

Time of Race: 02:54:10
Margin of Victory: 2.685 secs.
Average Speed: 75.411
Lead Changes: 12
Caution Flags: 5 for a total of 16 laps
Results—Top Ten
1. Kurt Busch, Dodge
2. Jeff Gordon, Chevrolet
3. Carl Edwards, Ford
4. Clint Bowyer, Chevrolet
5. Marcos Ambrose, Ford
6. Joey Logano, Toyota
7. Jimmie Johnson, Chevrolet
8. Martin Truex Jr., Toyota
9. Kevin Harvick, Chevrolet
10. Brad Kaselowski, Dodge
NASCAR K&N Pro Series West
Thunder Valley Casino Resort 200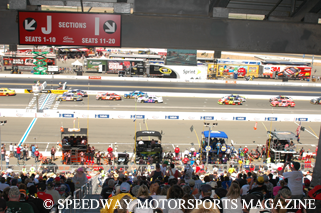 Time of Race: 02:05:05
Margin of Victory: 1.344 secs.
Average Speed: 61.076
Lead Changes: 6 (5 drivers)
Caution Flags: 8 for a total of 24 laps
Results—Top Ten
1. Joey Logano, Toyota
2. David Gilliland, Ford
3. Eric Holmes, Toyota
4. Greg Parsley, Ford
5. Brian Wong, Toyota
6. Jim Inglebright, Chevrolet
7. Moses Smith, Toyota
8. John Borneman, Ford
9. Dave Quartely, Ford
10. Todd Souza, Chevrolet

Klay Thompson Named Grand Marshal
of GoPro Grand Prix of Sonoma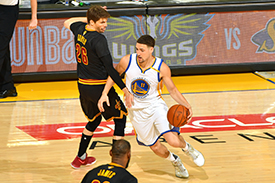 SONOMA, Calif. (Sept. 13, 2017) – Golden State Warriors All-Star Klay Thompson has been named Grand Marshal of the GoPro Grand Prix of Sonoma Verizon IndyCar Series season finale at Sonoma Raceway, Sept. 15-17.
Thompson, a shooting guard for the reigning NBA Champions, was selected in the first round of the 2011 NBA draft by Golden State with the 11th overall pick. In 2014, he and teammate Stephen Curry set a then-NBA record of 484 combined three-pointers in a season, earning the pair the nickname the "Splash Brothers".
Thompson is a three-time NBA All-Star and a two-time All-NBA Third Team honoree. In 2015, he helped lead the Warriors to their first NBA Championship since 1975. Thompson then helped the Warriors return to the NBA Finals for a third straight year in 2017, winning his second NBA Championship.

In his role as Grand Marshal of the GoPro Grand Prix of Sonoma, Thompson will take part in pre-race activities on Sunday, Sept. 17, give the official command of, "Drivers, Start Your Engines" and wave the green flag. Thompson will also enjoy a high-speed lap around the road course with racing legend Mario Andretti in a two-seat Indy car. This will mark his first visit to a motorsports event.
"I am beyond excited to be Grand Marshal for the GoPro Grand Prix of Sonoma," said Thompson. "I have heard so many good things about this race, and I can't wait to see everything up close in person."
Thompson is extremely active with Warriors community outreach programs and has been recognized off the court for his efforts in the community. He received the NBA Cares Community Assist Award for November 2014 and the Alvin Attles Community Impact Award in April 2015 in recognition of his efforts to make a positive impact on the lives of underserved youth in the Bay Area.
"Klay is a core member of one of the greatest sports teams in Bay Area history. He's a true champion and we're excited he will be with us to help crown the 2017 Verizon IndyCar Series champion this Sunday," said Steve Page, Sonoma Raceway president and general manager.
For more information or to purchase tickets for the GoPro Grand Prix of Sonoma, including preferred parking, garage access, pit and pre-race passes, visit www.sonomaraceway.com/indycar or call 800-870-7223. Kids 12 and under are admitted FREE all weekend and parking is FREE.
###
GoPro Grand Prix of Sonoma
Verizon IndyCar Series Season Finale

WHEN: Sept. 15-17
CIRCUIT: 12-turn, 2.38-mile road course
2016 WINNER: Simon Pagenaud (Team Penske)
INFORMATION: 800-870-RACE (7223), sonomaraceway.com/indycar
SOCIAL MEDIA: @RaceSonoma; #GoProGP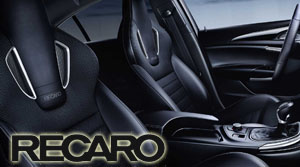 2017 Major Events
At Sonoma Raceway
Sonoma Historic Motorsports Festival
June 2-4
Toyota/Save Mart 350
NASCAR Weekend
June 23-25
NHRA Division 7 drag races, presented by Korbel
July 21-23
Toyota NHRA Sonoma Nationals
July 28-30
MotoAmerica Series presents the Championship
at Sonoma Raceway
Aug. 11-13
GoPro Grand Prix of Sonoma
Sept. 15-17
Classic Sports Racing Group
Charity Challenge
Sept. 29-Oct. 1