The Power of Success
IRL Indy Grand Prix of Sonoma/Infineon Raceway
Article by - John R. Andres, SMM Editor-in-Chief
Photography by - John Andres and Randy Jones/SMM Staff Photographer
Sonoma, Calif., August 22, 2010 – There's an old saying that goes…nothing succeeds like success.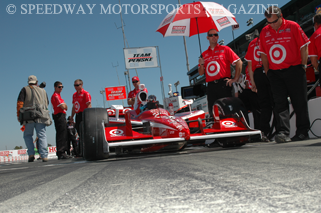 Sure he had the will and the power to succeed but these things never come easy, despite the pundits who characterize the annual event at Infineon as unexciting and for the most part, uneventful.
John Frankenheimer's 1966 Cinerama epic, "Grand Prix" focused at one point upon racing through the streets of Monte Carlo, another road course configuration that offers limited passing and viewing opportunities. It became very clear that this event, like others of its kind, was more than just what appeared on the track. It was the total experience that Frankenheimer focused upon…the sights, the sounds and the people that comprised the "color" that each and every racing event provides to each and every individual with a ticket. It doesn't matter if Power led from flag to flag, whether he used black tires or red, or whether or not he was involved in a multi car pileup. Speed is its own reward and Power used it to best some of the most talented drivers in the world this afternoon.
Perfection, like beauty, is in the eyes of the beholder. Who defines what it is and who establishes how it is attained depends upon that indefinable term: perspective.
A year ago, Power found himself at the crossroads of his career. The 29 year old Australian encountered a defining moment during the final practice session when he slammed into Nelson Philippe's stalled car at nearly 100 mph at one of Infineon's blind curves. A concussion, broken teeth and four cracked vertebrae put him on the fast track to anonyminity, given the fact that he had experienced limited success at KV Racing Technologies in 2009 and had just been granted part-time driver status at the "used to winning" Penske organization. A long and painful convalescence followed, during which time, Power had to make a decision whether he was willing to continue with a career that was in remission.
This year was another matter entirely. At the end of qualifying, Power was sitting in the "catbird seat" with an IndyCar series season record of eight pole positions. Coming into this race, Power's four wins (in nine races) in 2010 provided him with a 41 point cushion over his nearest rival, Dario Franchitti, for the series championship with five more races remaining.
Power's ability to hold off his rivals for 73 out of 75 laps was a testament to his ability to overcome adversity at a place that just one year prior had put him literally through the meat grinder. With five races remaining, Power extended his championship points lead to 59 over Franchitti.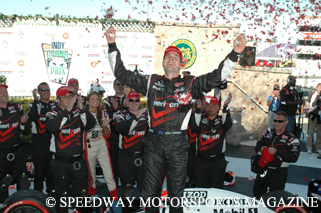 Storybook seasons are rare but Power has proved that his comeback year has all the trappings of a Hollywood make it or break it plot, complete with all the downs and the ups we sometimes find so hard to believe in today's reality oriented world.


Race Statistics
Track Length- 2.303 miles
Margin of Victory- 0.743 seconds
Time of Race- 1:52:34
Lead Changes- 2
Cautions- 4
Winner's Average Speed- 92.1 mph
Top 15 Qualifiers
(speeds in parentheses)
1) Will Power, 108.34
2) Helio Castroneves, 108.28
3) Dario Franchitti, 107.75
4) Alex Tagliani, 107.38
5) Ryan Briscoe, 107.38
6) Scott Dixon, 107.19
7) Justin Wilson, 107.75
8) Ryan Hunter-Reay, 107.49
9) Tony Kanaan, 107.23
10) Raphael Matos, 107.16
11) Simona de Silvestro, 106.64
12) Dan Wheldon, 106.53
13) Bertrand Baguette, 106.95
14) Hideki Mutoh, 106.95
15) E.J. Viso, 106.73
Top 15 Race Results
All cars Dallara-Honda
1) Will Power
2) Scott Dixon
3) Dario Franchitti
4) Ryan Brisco
5) Helio Castroneves
6) Justin Wilson
7) Tony Kanaan
8) Ryan Hunter-Reay
9) Graham Rahal
10) Alex Lloyd
11) Mario Moraes
12) Marco Andretti
13) Simona de Silvestro
14) Alex Tagliani
15) Vitor Meira

Klay Thompson Named Grand Marshal
of GoPro Grand Prix of Sonoma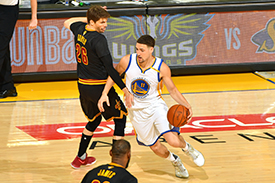 SONOMA, Calif. (Sept. 13, 2017) – Golden State Warriors All-Star Klay Thompson has been named Grand Marshal of the GoPro Grand Prix of Sonoma Verizon IndyCar Series season finale at Sonoma Raceway, Sept. 15-17.
Thompson, a shooting guard for the reigning NBA Champions, was selected in the first round of the 2011 NBA draft by Golden State with the 11th overall pick. In 2014, he and teammate Stephen Curry set a then-NBA record of 484 combined three-pointers in a season, earning the pair the nickname the "Splash Brothers".
Thompson is a three-time NBA All-Star and a two-time All-NBA Third Team honoree. In 2015, he helped lead the Warriors to their first NBA Championship since 1975. Thompson then helped the Warriors return to the NBA Finals for a third straight year in 2017, winning his second NBA Championship.

In his role as Grand Marshal of the GoPro Grand Prix of Sonoma, Thompson will take part in pre-race activities on Sunday, Sept. 17, give the official command of, "Drivers, Start Your Engines" and wave the green flag. Thompson will also enjoy a high-speed lap around the road course with racing legend Mario Andretti in a two-seat Indy car. This will mark his first visit to a motorsports event.
"I am beyond excited to be Grand Marshal for the GoPro Grand Prix of Sonoma," said Thompson. "I have heard so many good things about this race, and I can't wait to see everything up close in person."
Thompson is extremely active with Warriors community outreach programs and has been recognized off the court for his efforts in the community. He received the NBA Cares Community Assist Award for November 2014 and the Alvin Attles Community Impact Award in April 2015 in recognition of his efforts to make a positive impact on the lives of underserved youth in the Bay Area.
"Klay is a core member of one of the greatest sports teams in Bay Area history. He's a true champion and we're excited he will be with us to help crown the 2017 Verizon IndyCar Series champion this Sunday," said Steve Page, Sonoma Raceway president and general manager.
For more information or to purchase tickets for the GoPro Grand Prix of Sonoma, including preferred parking, garage access, pit and pre-race passes, visit www.sonomaraceway.com/indycar or call 800-870-7223. Kids 12 and under are admitted FREE all weekend and parking is FREE.
###
GoPro Grand Prix of Sonoma
Verizon IndyCar Series Season Finale

WHEN: Sept. 15-17
CIRCUIT: 12-turn, 2.38-mile road course
2016 WINNER: Simon Pagenaud (Team Penske)
INFORMATION: 800-870-RACE (7223), sonomaraceway.com/indycar
SOCIAL MEDIA: @RaceSonoma; #GoProGP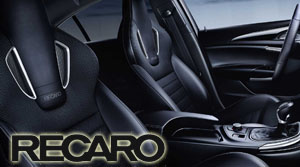 2017 Major Events
At Sonoma Raceway
Sonoma Historic Motorsports Festival
June 2-4
Toyota/Save Mart 350
NASCAR Weekend
June 23-25
NHRA Division 7 drag races, presented by Korbel
July 21-23
Toyota NHRA Sonoma Nationals
July 28-30
MotoAmerica Series presents the Championship
at Sonoma Raceway
Aug. 11-13
GoPro Grand Prix of Sonoma
Sept. 15-17
Classic Sports Racing Group
Charity Challenge
Sept. 29-Oct. 1