Summer Thunder in the Sonoma Valley
FRAM Autolite NHRA Nationals
Article by – John R. Andres, SMM Editor-in-Chief
Photographs by J.R. Andres and Randy Jones/SMM Staff Photographer
Infineon Raceway – SONOMA, Calif., July 18, 2010 – Thunder and lightning are rare occurrences in the Sonoma Valley, especially during the summer months, but the weekend of July 16th through the 18th was the exception when the FRAM Autolite Nationals appeared on the horizon as part of NHRA's Full Throttle Drag Racing Series Western Swing that includes stops at Seattle, Sonoma and Denver. Even though the skies were clear, thunder made its presence known as the competitors moved from practice to qualifying to the final rounds before a large crowd of spectators that exceeded initial attendance projections.
Aside from the normal oil-downs, major mishaps were nonexistent with the exception of an event involving Gary Densham that occurred on Friday night when the body of his Chevrolet Impala funny car was destroyed as the result of a mechanical failure as he was passing through the lights at nearly 300 mph. This wild run netted him a second place position that could only be defended if the body was replaced in time by Sunday. Within a very short period of time, a replacement was on its way from Southern California and he was able to compete on Sunday, until he was beaten by Melanie Troxel in the first round of final eliminations.
The track conditions, which led to three new Infineon records being set on Friday afternoon and evening, were near perfect owing to the fact that the raceway sits a mere 15 feet above sea level. The temperatures were cool and the air dense which always results in some serious horsepower gains as if any of the cars there needed more of what they already had. Saturday was different when the strip hit a scorching 120+ degrees, creating traction difficulties and lowered elapsed times. Notwithstanding these conditions, Hector Arana set a new Infineon record in Pro Stock Motorcycle, turning 6.876 sec. @ 195.45 mph, which moved him from sixth place to the number one qualifying spot.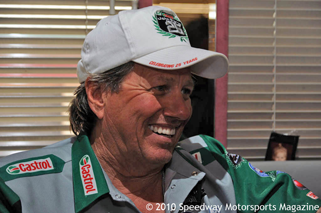 Sunday dawned with the promise of fame and glory for those with the stoutest hearts and the strongest machines poised to take up the challenge and the rewards offered in return for the quickest time and the highest speed they were willing to chance while ignoring the dangers inherent in the kind of business few would choose to engage in. All of this came into perspective during the time this writer was embedded less than ten feet away from something insanely mad, something made of steel, titanium, rubber, fire, carbon fiber, aluminum and guts. It wasn't easy standing there with a camera and I wondered what it would be like to control or maybe not control 7000 horsepower for four seconds. I couldn't describe what it felt like to be there, no one could have.
One of the beauties of top tiered NHRA Drag Racing is its simplicity of form. It's cut and dried. Either you win or you lose; arbitration doesn't exist and the racers always know where they stand. Such was the case during an interview and photo session with two of NHRA's most popular drivers; John Force and his daughter Ashley Force Hood, who took over a half hour out of their day to meet with this writer and two other reporters in their motorhome to answer questions regarding their individual performances in 2010, their aspirations for the rest of this year, and what could be expected in 2011.
It became immediately apparent that Force still enjoys what he does and that he has never forgotten the fans who have supported him through the good times as well as the bad. I commented on how I remembered him at Orange County International Raceway in Irvine, California, during the late 1970's when it seemed like he had nothing to do between runs which is so unlike what he experiences today. He said, "I was so bored then that I actually went over to Don Prudhomme's pit and asked him for his autograph." He went on to say that, "I wish I had more time to spend with the fans…they mean a lot…it's just so different today with the demands placed on our time."
One thing hasn't changed and that's the level of competition that spanned three days at Infineon. There weren't any real surprises but there was plenty of what 20,000 fans paid their money to see on Sunday.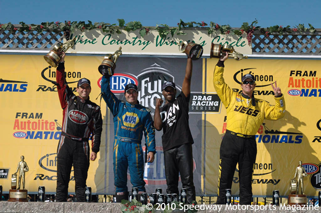 Larry Dixon reaffirmed his right to first place in the standings and proved once again that the preceding eight wins in 2010 weren't flukes by eliminating Tony Schumacher, the six time NHRA champion in the Top Fuel category (Dixon's 3.879/317.12 to Schumacher's 4.006/300.73).
In Funny Car, it was all about Ron Capps who defeated Jack Beckman, a driver that had posted the fastest time on Friday. The Carlsbad, California racer beat the odds by moving up from the bottom half of the qualifiers to take a well deserved win (Capp's 4.169/296.44 to Beckman's 4.210/298.93).
Jeg Coughlin Jr. was able to push his Chevy Cobalt far enough and fast enough to outrun Jason Line, the 2009 Infineon Pro Stock Champion in a final that had both competitors engaged in Sunday's closest side by side action (Coughlin's 6.590/209.52 to Line's 6.602/209.39).
Michael Phillip's confidence and driving ability was enough to set a new NHRA speed record during the semis on Sunday and enough to carry him into the Winner's Circle one round later. When asked about his Pro Stock Motorcycle win, Phillips said, "My game is on…the more comfortable I get, the harder it's going to be to beat me." (Phillips' 6.886/196.76 to Hine's 6.909/194.16).
The last leg of the 2010 Western Sweep will take place on July 23-25th at the Mopar Mile-High NHRA Nationals in Denver. For more information regarding standings, schedules and results, go to http://www.nhra.com.
Final Results
Top Fuel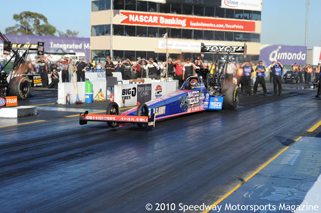 Larry Dixon/Al-Anabi Racing--3.879 sec. @ 317.12 mph
def. Tony Shumacher
Infineon Track Record: 3.839 sec. @ 317.79 mph
Funny Car
Ron Capps/NAPA Batteries Charger—4.169 sec. @ 296.44 mph
def. Jack Beckman
Infineon Track Record: Jack Beckman—4.063 sec. @ 311.56 mph
Pro Stock
Jeg Coughlin/JEGS.com Cobalt—6.590 sec. @ 209.52 mph
def. Jason Line
Infineon Track Record: Allen Johnson—6.545 sec. @ 210.77 mph
Pro Stock Motorcycle
Michael Phillips/Racer's Edge Suzuki—6.886 sec. @ 196.76 mph
def. Andrew Hines
NHRA National Speed Record: 197.65 mph
Comp Eliminator
Mike DePalma—8.150 sec. (8.75 index)
def. Tom Mettler
Super Stock
Tony Mandella—9.735 sec. (9.70 dial-in)
def. Jimmy DeFrank
Stock
Jimmy DeFrank—10.421 sec. (10.26 dial-in)
def. Jim Durham
Super Comp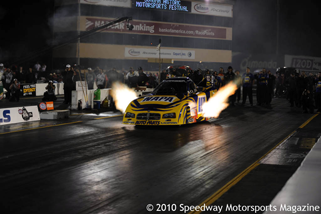 Kyle Seipel—8.916 sec. (8.90 index)
def. Aaron Kinnard
Super Gas
Shawn Langdon—10.489 sec. (9.90 index)
def. Val Torres
Top Sportsman
Mike Federer—7.431 sec. (7.40 dial-in)
def. Gary Forkner
Current NHRA 2010 Points Leaders
Top Fuel: Larry Dixon Jr.
Funny Car: John Force
Pro Stock: Mike Edwards
Pro Stock Motorcycle: Hector Arana
Competition Eliminator: Glen Treadwell
Super Stock: Ryan McClanahan
Stock: Rusty Hall (Division 7)
Super Comp: Raymond Miller
Super Gas: David Tatum
Top Sportsman: Joe Roubicek (Division 7)

Klay Thompson Named Grand Marshal
of GoPro Grand Prix of Sonoma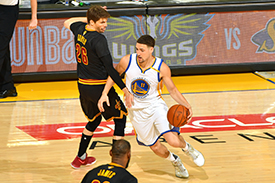 SONOMA, Calif. (Sept. 13, 2017) – Golden State Warriors All-Star Klay Thompson has been named Grand Marshal of the GoPro Grand Prix of Sonoma Verizon IndyCar Series season finale at Sonoma Raceway, Sept. 15-17.
Thompson, a shooting guard for the reigning NBA Champions, was selected in the first round of the 2011 NBA draft by Golden State with the 11th overall pick. In 2014, he and teammate Stephen Curry set a then-NBA record of 484 combined three-pointers in a season, earning the pair the nickname the "Splash Brothers".
Thompson is a three-time NBA All-Star and a two-time All-NBA Third Team honoree. In 2015, he helped lead the Warriors to their first NBA Championship since 1975. Thompson then helped the Warriors return to the NBA Finals for a third straight year in 2017, winning his second NBA Championship.

In his role as Grand Marshal of the GoPro Grand Prix of Sonoma, Thompson will take part in pre-race activities on Sunday, Sept. 17, give the official command of, "Drivers, Start Your Engines" and wave the green flag. Thompson will also enjoy a high-speed lap around the road course with racing legend Mario Andretti in a two-seat Indy car. This will mark his first visit to a motorsports event.
"I am beyond excited to be Grand Marshal for the GoPro Grand Prix of Sonoma," said Thompson. "I have heard so many good things about this race, and I can't wait to see everything up close in person."
Thompson is extremely active with Warriors community outreach programs and has been recognized off the court for his efforts in the community. He received the NBA Cares Community Assist Award for November 2014 and the Alvin Attles Community Impact Award in April 2015 in recognition of his efforts to make a positive impact on the lives of underserved youth in the Bay Area.
"Klay is a core member of one of the greatest sports teams in Bay Area history. He's a true champion and we're excited he will be with us to help crown the 2017 Verizon IndyCar Series champion this Sunday," said Steve Page, Sonoma Raceway president and general manager.
For more information or to purchase tickets for the GoPro Grand Prix of Sonoma, including preferred parking, garage access, pit and pre-race passes, visit www.sonomaraceway.com/indycar or call 800-870-7223. Kids 12 and under are admitted FREE all weekend and parking is FREE.
###
GoPro Grand Prix of Sonoma
Verizon IndyCar Series Season Finale

WHEN: Sept. 15-17
CIRCUIT: 12-turn, 2.38-mile road course
2016 WINNER: Simon Pagenaud (Team Penske)
INFORMATION: 800-870-RACE (7223), sonomaraceway.com/indycar
SOCIAL MEDIA: @RaceSonoma; #GoProGP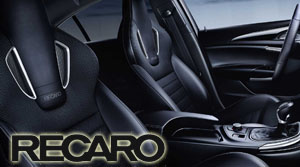 2017 Major Events
At Sonoma Raceway
Sonoma Historic Motorsports Festival
June 2-4
Toyota/Save Mart 350
NASCAR Weekend
June 23-25
NHRA Division 7 drag races, presented by Korbel
July 21-23
Toyota NHRA Sonoma Nationals
July 28-30
MotoAmerica Series presents the Championship
at Sonoma Raceway
Aug. 11-13
GoPro Grand Prix of Sonoma
Sept. 15-17
Classic Sports Racing Group
Charity Challenge
Sept. 29-Oct. 1