American Le Mans Series Monterey
presented by Tequila Patron
Article by – John R. Andres, SMM Editor-in-Chief
Photography by Randy Jones, SMM Staff Photographer
Mazda Raceway Laguna Seca – Monterey, Calif., May 23, 2010 – The stage was set but the outcome was unsure until Patron Highcroft Racing (PHR) pulled out all the stops and moved through the field to take the LMP1
win at the grueling six hour American Le Mans Series race at Mazda Raceway Laguna Seca. Once the race began, it took a total of 78 minutes for the PHR entry to weave through and around 32 other competitors with the help of sticky Michelin tires and a crew that was motivated to accept nothing less than victory. It was the second time the HPD ARX-01c of Brabham, Pagenaud and Franchitti wheeled into the Winner's Circle in as many races and there was little doubt the win was well deserved considering what the team had to contend with throughout the race.
During the last two hours of this six hour race, Franchitti was engaged in a back and forth battle with the Lola of Dyson/Smith/Meyrick until a oil filter gave way on the Mazda, sidelining the car with a mere 24 minutes left. After that point, it was clear that barring any mechanical failures, PHR was not to be denied ... and they weren't.
The Level 5 Motorsports Oreca FLM09 entry, driven by Tucker, Bouchut and Wilkens won the LMP Challenge portion of the race in addition to setting the fastest lap in the class along the way to their victory with just seven seconds separating the top two finishers. It was closer than they wanted to be but more than enough to win.
In the GT class, there were three Ferraris, two BMWs, two Corvettes and one Flying Lizard Porsche, all trying to outdo one another while taking their turn for the lead. Midway through the race it was a toss-up with all the top contenders finding themselves able to hold onto their positions without much difficulty. The racing was close and it was clear that anyone had a chance to reel in the gold.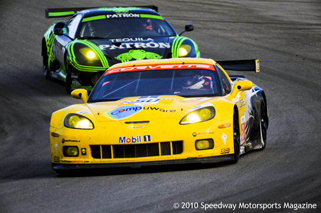 With eight minutes left, the 911 Porsche RSR of Bergmeister and Long passed the BMW M3 of Mueller and Hand at Turn 11 just as the restart went to green. In the end, only 0.365 seconds separated the top two cars. It was a great finish and the kind of close racing one has come to expect in this class.
GT Challenge was led from start to finish by the Black Swan Racing Porsche entry driven by Pappas/ J. Bleekemolen/ and S. Bleekemolen. This team dominated the race from start to finish and went a long way toward erasing some of the sour memories of their 2010 debut at Long Beach when the team experienced problems early on in that race when things didn't go as expected.
Mazda Raceway Laguna Seca (http://www.mazdaraceway.com) provided a variety of fan oriented events that appealed to all ages on and off the track, ranging from kid's crafts to meet and greet autograph sessions with over 100 American Le Mans drivers. It was the first six hour Le Mans Series race at this venerable Monterey facility and with a total of nine races completed over the weekend, the action was non-stop from start to finish.
Race Results-Top Two Finishers/Class
LMP
1. Brabham/(Pagenaud)/Franchitti – HPD ARX-01c
2. Gidley/(Graf)/Maassen – Porsche RS Spyder
Fastest Driver: Guy Smith – Lola
LMP Challenge
1. Tucker/(Bouchut)/Wilkens – Oreca FLM09
2. Sutherland/Weickardt/(Marcelli – Oreca FLM09
Fastest Driver: Cristophe Bouchut – Oreca
GT
1. (Bergmeister)/Long – Porsche 911 RSR
2. (Mueller)/Hand – BMW M3 GT
Fastest Driver: Johannes Van Overbeek--Ferrari
GT Challenge
1. Pappas/(J. Bleekemolen)/S. Bleekemolen – Porsche 911 GT3 Cup
2. Richard/Villeneuve/(Lally – Porsche 911 GT3 Cup
Fastest Driver: Jeroen Bleekemolen – Porsche
Michelin Green X Challenge Winners
LMP1 – Brabham/Pagenaud/Franchitti – HPD ARX-01c
GT – O'Connell/Magnussen – Corvette C6.R
Total Cautions – 10
Lead Changes – 4
Then next American Le Mans Series Race presented by Tequila Patron, will be at the Larry H. Dealerships Utah Grand Prix, held on Sunday, July 11th at Miller Motorsports Park. Check your local listings for broadcast times or www.americanlemans.com for more information.



Klay Thompson Named Grand Marshal
of GoPro Grand Prix of Sonoma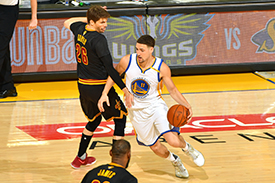 SONOMA, Calif. (Sept. 13, 2017) – Golden State Warriors All-Star Klay Thompson has been named Grand Marshal of the GoPro Grand Prix of Sonoma Verizon IndyCar Series season finale at Sonoma Raceway, Sept. 15-17.
Thompson, a shooting guard for the reigning NBA Champions, was selected in the first round of the 2011 NBA draft by Golden State with the 11th overall pick. In 2014, he and teammate Stephen Curry set a then-NBA record of 484 combined three-pointers in a season, earning the pair the nickname the "Splash Brothers".
Thompson is a three-time NBA All-Star and a two-time All-NBA Third Team honoree. In 2015, he helped lead the Warriors to their first NBA Championship since 1975. Thompson then helped the Warriors return to the NBA Finals for a third straight year in 2017, winning his second NBA Championship.

In his role as Grand Marshal of the GoPro Grand Prix of Sonoma, Thompson will take part in pre-race activities on Sunday, Sept. 17, give the official command of, "Drivers, Start Your Engines" and wave the green flag. Thompson will also enjoy a high-speed lap around the road course with racing legend Mario Andretti in a two-seat Indy car. This will mark his first visit to a motorsports event.
"I am beyond excited to be Grand Marshal for the GoPro Grand Prix of Sonoma," said Thompson. "I have heard so many good things about this race, and I can't wait to see everything up close in person."
Thompson is extremely active with Warriors community outreach programs and has been recognized off the court for his efforts in the community. He received the NBA Cares Community Assist Award for November 2014 and the Alvin Attles Community Impact Award in April 2015 in recognition of his efforts to make a positive impact on the lives of underserved youth in the Bay Area.
"Klay is a core member of one of the greatest sports teams in Bay Area history. He's a true champion and we're excited he will be with us to help crown the 2017 Verizon IndyCar Series champion this Sunday," said Steve Page, Sonoma Raceway president and general manager.
For more information or to purchase tickets for the GoPro Grand Prix of Sonoma, including preferred parking, garage access, pit and pre-race passes, visit www.sonomaraceway.com/indycar or call 800-870-7223. Kids 12 and under are admitted FREE all weekend and parking is FREE.
###
GoPro Grand Prix of Sonoma
Verizon IndyCar Series Season Finale

WHEN: Sept. 15-17
CIRCUIT: 12-turn, 2.38-mile road course
2016 WINNER: Simon Pagenaud (Team Penske)
INFORMATION: 800-870-RACE (7223), sonomaraceway.com/indycar
SOCIAL MEDIA: @RaceSonoma; #GoProGP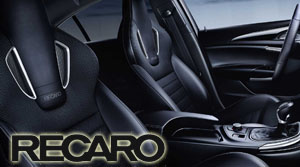 2017 Major Events
At Sonoma Raceway
Sonoma Historic Motorsports Festival
June 2-4
Toyota/Save Mart 350
NASCAR Weekend
June 23-25
NHRA Division 7 drag races, presented by Korbel
July 21-23
Toyota NHRA Sonoma Nationals
July 28-30
MotoAmerica Series presents the Championship
at Sonoma Raceway
Aug. 11-13
GoPro Grand Prix of Sonoma
Sept. 15-17
Classic Sports Racing Group
Charity Challenge
Sept. 29-Oct. 1