Monday, March 23, 2009, 12:23 PM
Posted by Administrator
What a difference a year makes. Who would have thought that: 1) tickets were going to be made available to the denizens of Thunder Valley for the first time in 13 years, and 2) Travis Kvapil's loss of the Golden Corral sponsorship for his Yates Ford Fusion may be the first harbinger of the recessional malaise that's beginning to tighten its grip upon those, whose performances fail to impress the keepers of the corporate bean vaults.
1. It's beyond comprehension how any venue can sellout 160,000 seats for fifty-three straight events. Up until the last minute this year, Bristol wasn't sure if it was going to make a Guinness Book record setting fifty-four straight but it did. The positive in all of this was that a significant number of corporate sponsors decided to do something else this weekend, thus making room for those that had been shut out the ticket competition for over a decade. A little bit of "corporate conscience", either intended or unintended, goes a long way today.
2. Like it or not, NASCAR's top 35 "lock-in" rule has taken on a whole new meaning following the Food City 500 because those that were assured a spot in the program for the first six races this year, based upon last year's performance must now be in the top 35, based upon their performance in 2009. This means that some teams may be walking the proverbial plank of the ship scheduled to arrive in Martinsville next weekend. To make matters worse, drivers like Kvapil, Menard, Mayfield, Gilliland, LaBonte and Bodine are now faced with a no warranty situation that will not only not guarantee their place in the field but also threaten the commitment of sponsors who are jittery about supplying the funds necessary for them to continue anyway.
5 comments
( 233 views ) |
permalink
|


( 3.1 / 51 )
Friday, March 20, 2009, 11:03 PM
Posted by Administrator
There's competition amongst the rodents and there's room for only one of them in town. It's been twenty-nine years since so much attention has been heaped upon a member of the Geomyidae family. Mr. Gopher reigned supreme in "Caddyshack" but there are some new kids in town and they've taken up residence on the FOX-NASCAR Channel.
Digger, FOX's gopher groundskeeper, maintains the grassy areas around the embedded raceway minicams and pops up making his presence known when there is a break in the action. He was a B-list attraction in 2008 but like most of his ilk, he's managed to attract four additional groupies with names like; Lumpy Wheels, Marbles, Grampa and Annie aka Digette, catapulting himself and his pals to A-list status in 2009, as evidenced by the twenty-five or so licensed products that are now available for sale.
What began as just a mindless diversion, now has become a point of contention for many NASCAR devotees, who contend that cameo appearances of cartoon characters, during race broadcasts, have no place on, under or around the track.
What do you think?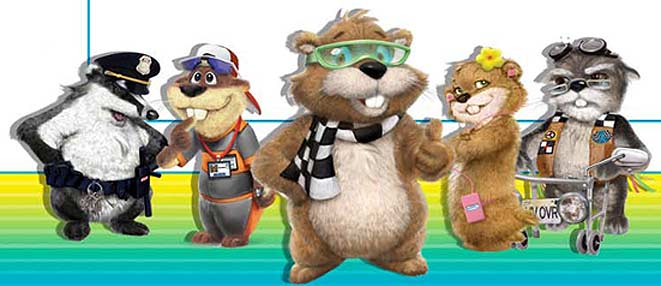 4 comments
( 334 views ) |
permalink
|


( 3 / 396 )
<<
<Back
| 1 | 2 |