Wednesday, October 7, 2009, 01:00 AM
Posted by Administrator
It depends on who you speak to and the demographics youíre referring to but one thing is certain, NASCAR TV ratings are down this year. After a considerable period of growth it appears that stock car racing viewership is dwindling. Some cite the recession or the COT cars or the NFL or the CHASE format or the start times or the broadcasters. Whatever the reason, the networks and the sponsors are fidgeting in their seats. Those in the know, i.e., FOX, ABC, SPEED, TNT and ESPN with few exceptions, are experiencing overnight ratings share and viewer numbers in decline. There are other concerns, too. Most if not all contracts between NASCAR and the networks extend to 2014 and there is no provision for the networks to pay less even if the ratings continue in their present downward trend.
One would think that Mark Martinís quest for the CHASE Championship would be the "magic bullet" that would cure the disease but so far the patientís condition remains guarded. No one is considering calling a "Code Blue" at this point but the specialists are scratching their heads trying to establish the etiology, a diagnosis and a cure. Everyone has an opinion but no one has the answer.
One popular notion is that NASCAR has peaked in popularity due to several recent changes in format that have caused the traditionalists to become unglued. Other potential reasons may be attributed to the generic COT cars or restrictor plate races that have taken the "edge" off a sport that was weaned upon individual innovation, nerve, gall and temerity.
It will remain to be seen what NASCAR comes up with and whether this yearís championship will generate sufficient interest to push the snowball back up the hill against the forces of momentum and gravity. NASCAR canít make things better for everybody but it must listen and make things better for more than it has up to this point before that snowball reaches the point of no return.
Photos by J.R. Andres/Deborah Hepper
This?
Or this?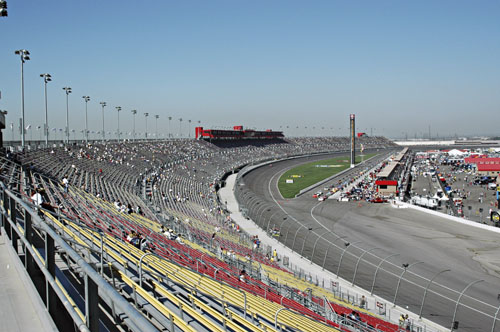 470 comments
( 23567 views ) |
permalink
|
print article
|





( 3 / 1517 )